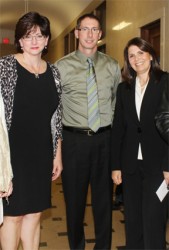 Celebrating 25 Years of Saving Lives A company's anniversary is a cause for celebration, but when it is a not-for-profit organization dedicated to saving lives, the reason to celebrate is even greater. This July marks the 25th anniversary for Gift of Hope Organ and Tissue Donor Network.
Their mission is quite simple, save and enhance the lives of as many people as possible through organ and tissue donation in Illinois and Northwest Indiana. To date, the organization has helped save more than 18,000 lives and has improved the lives of hundreds of thousands.
In spite of their success, the challenge remains according to Raiza Mendoza, Hispanic Public Relations and Community Outreach Coordinator of Gift of Hope. Many in the Latino community continue to believe in the myths and misconceptions about organ donation, and as a result impede Latinos' motivation to register as donors. "For this reason, we are continuously developing educational campaigns to replace myths with facts, which have produced positive changes in the Latino community," says Mendoza.
According to UNOS*, there are currently 115,000 people nationwide waiting for an organ, 5,000 of which are from Illinois. Eighteen people die every day awaiting a transplant that can save their life, which means 6,000 people die each year because of the lack of organs available for a transplant. Every 11 minutes someone is added to the waiting list.
Mendoza asks all Latinos to join the cause and sign up as organ donors in the Illinois Organ and Tissue Donor Registry.