By: Vanessa Esparaza-López
Supervising Attorney
National Immigrant Justice Center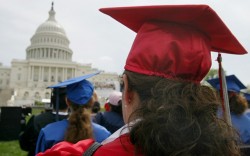 In the midst of summer vacation, President Obama and the Department of Homeland Security (DHS) gave hope to many undocumented youth in the United States. On June 15, 2012, DHS announced that it would offer deferred action to "DREAMers," those young people who would qualify for some iteration of the DREAM Act, should the legislation get enacted into law.
Per DHS, a DREAMer can apply for deferred action if the following conditions apply: 1) arrived in the U.S. under the age of 16; 2) has continuously resided in the U.S. for at least five years preceding June 15, 2012 and was present on said date; 3) is currently enrolled in school, graduated from high school, obtained a GED or has been honorably discharged from the military; 4) has no felony convictions, significant misdemeanor convictions, multiple misdemeanor offenses, or otherwise does not pose a threat to national security/public safety; 5) is at least 15 years old (unless in removal proceedings); and 6) is not over thirty years old.
DHS has until August 14, 2012 to establish the application process that will allow DREAMers to affirmatively seek deferred action. Given the close proximity of this event, it is important for the community to know what deferred action is and what it is not.
Put simply, deferred action is DHS's decision not to enforce an individual's removal notwithstanding its legal right to do so. One reason that DHS might "defer" the process of an individual's removal is because the agency would rather focus its limited resources on individuals who have a criminal record and/or pose a danger to the public.
Deferred action is NOT lawful status. In practical terms, deferred action means that for a two-year period, DHS will not seek to remove eligible youth from the United States. During that period, an individual can apply for and receive a work permit, and in Illinois, an individual can apply for and receive a social security number and a driver's license. Deferred action is NOT permanent. After the two-year period, DHS can decide whether or not to renew deferred action. DHS can revoke deferred action even before the two-year period expires.
Since the initiative was announced, we at the National Immigrant Justice Center (NIJC), as well as other advocates, have received many questions from DREAMers regarding eligibility: What if Obama is not reelected? What if I was given a traffic ticket, but I was never arrested? What if I entered when I was sixteen and not when I was under sixteen? What about my undocumented parents, will this help them? What if my conviction was expunged? These are important questions to ask, and individuals should consult with a licensed attorney or an accredited representative at a BIA-recognized agency before applying for any immigration benefit.
As DREAMers await the application process, they should take this time to gather documents to prove that they satisfy each of the requirements for deferred action. If an individual has any doubt as to eligibility, the individual should seek the advice of a licensed attorney or BIA-recognized agency. These types of changes in immigration law, policy and/or procedure create situations ripe for individuals to be defrauded, often known as "notario fraud."
Although DHS's initiative is welcomed, we still need comprehensive immigration reform. However, at least now thousands of DREAMers will have the opportunity to come out of the shadows and integrate themselves more meaningfully into society. DREAMers will be able to secure lawful employment and drive – two obstacles that often prevent them from pursuing their educational or professional aspirations. It is in our nation's interest to welcome talented, educated and competitive individuals who make invaluable contributions to our community. DREAMers will now be able to assist in this endeavor – they will help to keep their country strong.
For more information, please visit our website at: http://www.immigrantjustice.org/DREAMerDeferredAction.