By: Celia Martinez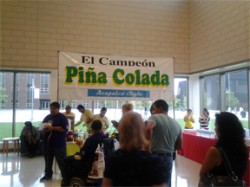 A sense of humbling gratitude and appreciation filled the performing arts center of the Benito Juarez Community Academy as community members, scholarship recipients, sponsors and supporters gathered for the Opening Reception and Scholarship Award Ceremony in celebration of Fiesta del Sol's 40th anniversary in the very place that began it all. "This is an opportunity to kick off the festival and to celebrate with the community," said Alma Campos, communications coordinator for the Pilsen Neighbors Community Council (PNCC).
The evening, hosted by PNCC, consisted of a lineup of speakers and capped off with the presentation of the scholarships and the unveiling of Fiesta del Sol's annual commemorative poster by Alejandro Romero, the festival's designated artist for the last 20 years.
Fiesta del Sol was first organized in 1972 in celebration of PNCC's effort to get the city of Chicago to build the Benito Juarez Community Academy. And what began as a block party ascended into the largest Latino festival in the Midwest, with over 1 million attendees in the four-day celebration.
Fiesta del Sol has undoubtedly become a staple in Chicago's Latino community not only because it brings in business and revenue to local businesses, but also because it does so much for Latino youth who volunteer at the fiesta as they learn about teambuilding and gain leadership skills.
And continuing with that same desire to give back to the community as it did when it first started, Fiesta del Sol awards scholarships of $1500 to deserving Latino students from the Chicago land area to help with their college expenses.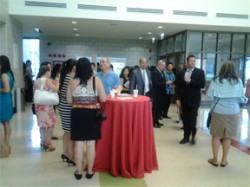 One of this year's scholarship recipients happened to be the very first Señorita Fiesta del Sol, 23-year old Cynthia Gongora. "It is a huge honor to have won," said Gongora, "I know this is something that is going to go down in the history [of Fiesta del Sol]."
Señorita Fiesta del Sol is a "brains and beauty" pageant for young Latina women under the age of 25 and is something that Campos said had been in the works for quite some time. "Thanks to the scholarship I will be able to fulfill the academic dreams that I have," Gongora said.
Although the Guadalupe Reyes Fiesta del Sol scholarships have been awarded to high achieving students for the last 16 years, in honor of the fiesta's 40th anniversary, 40 scholarships were awarded to Latino students this year.
"Last year we were only able to do 15 scholarships," said Campos. "It was a lot of work but it was really worth it."
Fiesta del Sol has managed to award scholarships to 450 students since the scholarship award program first initiated, totaling more $700,000. This is a great opportunity for many students who would otherwise not be able to attend college due to finances. But receiving a Guadalupe Reyes Fiesta del Sol scholarship is not an easy accomplishment. Campos said students are chosen based upon academics, personal essays and community service. "These are students who want to give back, without having a lot," said Campos.
For 17-year old Nallely Silva, receiving the scholarship not only means that she'll be the first in her family to attend a University, but also that she will have the opportunity to surround herself with people who are doing good for the community.
"I'm getting to know people who are doing what I want to do," said Silva about PNCC. "And they are teaching me the lessons that I want to teach others."
The Pilsen resident and Benito Juarez Community Academy graduate will attend DePaul University in the fall and plans on pursuing a degree in Business Administration. "I want to major in business but I want to work for a non-profit and eventually open my own company."
For other students, receiving the scholarship means they will be able to simply enjoy the college experience. Little Village resident Eric Martinez, 18, said he is thankful because the amount of the award is exactly what he needed to cover tuition. "It's just a relief," said Martinez, "knowing that I already have the money and I don't have to worry about finances and I can just enjoy college life."
West Lawn resident Juana Villalpando, 18, said the scholarship came at time when her family is experiencing financial hardships. "Without the scholarship I honestly would not have been able to pay for the tuition," said Villalpando.
Villalpando will be attending the Illinois Institute of Technology in the fall and would eventually want to get into medical school to become a pediatrician.
"Without the scholarship I would not be able to achieve the dreams that I want to accomplish in the future," said Villalpando. "Receiving the scholarship has given me hope."