Of course grilled lean meat, poultry, and fish are summer staples. Not sure how to get those other food groups on the grill? Here's some tips for every food group, grilled up to perfection.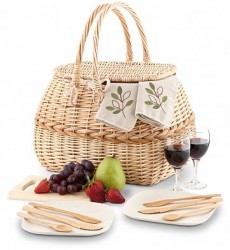 Protein. Choose lean meat like a sirloin or top round, skinless chicken, and salmon. All work great on the grill and provide important nutrients. Marinate leaner cuts to help tenderize them while adding a layer of flavor.
Dairy. Add a slice of reduced fat cheese to your burger, or try a yogurt based marinade for chicken for a really juicy, tangy taste.
Fruit. Grill slices of pineapple or melon, or peach/plum/nectarine halves. Perfect for adding to salads, salsas, or ice cream parfaits. Berries on kabobs alternating with chicken or fish are tasty, too.
Vegetables. Zucchini or summer squash sliced lengthwise, potatoes whole or sliced with skin still on, and even avocado halves are fun to grill. For smaller vegetables, use kabobs or a grate made for cooking fish and veggies on the grill to keep them from falling through. Use cherry or grape tomatoes on kabobs for easier handling.
Grains. Toast hamburger or hot dog buns on the grill if desired, or try heating up a tortilla before making a wrap sandwich.
In addition to a balanced menu with all the food groups nicely presented, food safety is key to a successful grilled meal. The new dietary guidelines include food safety as an important part of eating healthier by keeping food safe in addition to balanced meals and proper activity. Follow the four easy steps to food safety from www.fightbac.org and visit this site for more information and tips.


Copyright © 2009 Supervalu, Inc. All Rights Reserved.

Watch for up to date information every week. If there is a specific health or nutrition related issue you would like more information on, please e-mail us at nutricion@lawndalenews.com or write to:

Lawndale News
5533 W. 25th St.
Cicero, IL 60804
ATTN. Fresh Take on Health and Nutrition Column from Jewel-Osco

Grilling is a great way to cook food on a hot summer day because it keeps the heat out of the kitchen and clean up to a minimum. It's also a delicious way to make a balanced meal because you can make something from every food group!