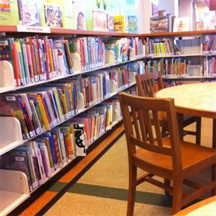 The Chicago Public Library unveiled its new flexible staffing plan that will allow all 76 neighborhood branches to offer full-day service on Mondays after children return to school in the fall without increasing the operating budget.
When Library Commissioner Brian Bannon was appointed by Mayor Emanuel in January, he directed an analysis of Chicago Public Library staffing models, drawing from best practices in other cities, and found many ways to improve.
Now, rather than using one staffing model for all branches, the staffing model addresses each branch's particular needs. This new, more flexible model is possible by re-allocating staff positions made vacant by retirement and attrition and replacing those positions with a targeted mix of full- and part-time positions needed to most efficiently staff the libraries based on user demand. The new staffing model will result in better service to the public, easier access to materials and allow the branches to provide 48 hours of weekly service, year round.
The additional 304 Monday morning hours across the system allow Chicago families to take advantage of more early literacy programs, preparing toddlers and preschoolers for school by teaching letters, numbers and the fundamentals of reading. The additional hours will also allow children's librarians to do outreach to schools and host school visits on Monday mornings.