By: Carmen Lopez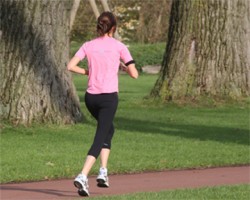 Kicking off an exercise routine can be difficult and time consuming. However, the obesity rate in the United States is growing at an alarming rate, so Americans need to get off the couch and indulge in physical activity. Running is one of the body's natural functions; so it is time to hit that pavement.
You will first need determination. As a beginner, you will have to understand that running is not easy and that you will have to ignore speed and focus on the effort you are putting in. Similar to other tasks, running takes time to get used to. New runners need to be patient and wait for the glorious moment when running becomes an enjoyable habit.
A new runner should start small. You cannot go from the couch to running a marathon in a few days. Becoming a seasoned runner takes time, so new runners can start by speed walking for a mile. When you feel prepared you can start alternating between running and walking every 30 seconds for a mile and a half. Depending on how your body responds, you can increase the time you spend running after several weeks. New runners need to remember to let their body rest. Limit your running to three to four times per week. This will give your body enough time to recover.
Warming up and cooling down is important for any runner. As a warm up, walk for five to seven minutes. This will help your body adjust to being physically active. Cooling down is similar to warming up, but you need to include stretching after walking for five to seven minutes. Stretching is very important for any athlete, for it helps prevent injury. Hydration is also important. Runners need to drink plenty of water before, during, and after a run. This will help prevent dehydration.
As a new runner it is important to keep the miles you run small. Take things slow to avoid injury and to allow your body to enjoy the run. Work your way up through the miles. Start by training for a 5k run which is 3.2 miles. After you are able to run a 5k comfortably, move up to an 8k and continue progressing until you can run the distance you desire comfortably.
Goals are very important for runners. A great way to set a goal is by registering for a race. You can search for races online by visiting cararuns.org. You can search for a cause that is important to you and register for their race. By choosing a charity that you have a personal connection with you are more inclined to commit to your training.
There are various benefits to running daily. Running can help reduce the risk of having a heart attack. Running can also help fight against high blood pressure and diabetes. Daily running also helps with weight loss. A very important benefit of running is that it can help reduce stress and depression. Running also helps boost confidence. As a runner sets and accomplishes goals they begin to feel more accomplished. Running does great things to the body, so put on your running shoes and hit the pavement.
Upcoming races in the Chicago area that runners can start training for are the Elvis is Alive 5k will take place August 16. It is noncompetitive and allows runners to dress up in their favorite Elvis gear to raise funds to end AIDS. The Day of the Dead UNO 5k will be occurring November 3. In this race you can indulge in a full Mexican food feast at the post race party. The Hot Chocolate 5k occurs November 4 and will take place in a full chocolate paradise. Runner can enjoy various chocolate treats at the post race party. All of these races have charities that will be the beneficiaries of the money collected.