By: Daniel Nardini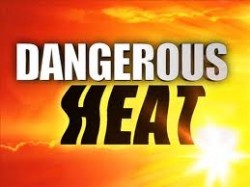 For the last seven days, much of the U.S. Midwest and Northeast were experiencing 100 plus degree weather. So far, this has proven to be the hottest summer in seven years. In my personal case, I have no survival story to tell. When I went outside (as is true of my work), I stayed in an air-conditioned car. For most of the day, we left the air-conditioning off. This is to save power and money (yep, the electric power companies try to get us one way or another!). Not to worry, my wife and I stayed in the basement where the temperature is a constant 65 degrees. During the early evening, we turned on the air so we could go to bed without dying of heat. During the worst of the heatwave, we still had power, and we did not have to worry about heat exhaustion and certainly not heat stroke. Sadly, millions of people across the eastern part of the United States could not say the same.
Freak storms had knocked out power and therefore any means of air-conditioning for so many people. What bothers me is that much of America's power grid is still not well equipped to deal with what disasters that can and do occur in this country. The great Blackout of 2003, which occurred in eight U.S. states and the province of Ontario in Canada, should have been a wake-up call about how inadequate the U.S. power grid is. Well, nine years later so many Americans have had to deal with no electric power for a week and with it no air-conditioning. Hence, people have had to go into water fountains and into rivers and lakes to stay cool. Many people have been treated for heat exhaustion and even heat stroke, and over 30 people have died because of the weather. It truly breaks my heart to read of people in many areas of Chicago who were hospitalized, or worse died because of the excessive heat. The City of Chicago and many other cities in the Chicago area had set up cooling centers for those without air-conditioning and more parks with water fountains were opened for those who have no air-conditioning.
It is hard to believe that this was all a week ago. Now we are back into the low to mid 80's, and while it is still hot, it is nowhere near as bad as it was the week before. Actually, before the week where we reached 100 plus degrees we had almost two weeks of 90 plus degree heat with no real rain. We are only through half of the summer—which means we might have more triple digit hot temperatures. Hopefully not. Hopefully this was the last. But not to worry as we will all be complaining about the excessive cold in three to four months.