By: Ashmar Mandou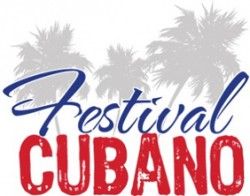 For ten months George Herrera, founder of the Cuban Festival, has been planning, attempting to raise the bar on what is expected to be the largest Cuban Festival in the country. "It's madness here," said Herrera. "We prepare a year in advance for a two-day festival. That's something not a lot of people realize. We are so grateful to have people around us to support." This year, Herrera promises to give people a diverse range of vendors and entertainment to keep everyone feeling as if they stepped into a paradise. Amid the chaos, Herrera took time to share some thoughts on his love for his heritage and how everyone should be Cuban for a day.
Tropical Island
Our goal is to provide the most authentic Cuban experience, everything from our design layouts, themes, and entertainment. We try to make people forget they are in Chicago. We want people to feel they stepped into Cuba and see firsthand the culture, music, the dancing, and the food. We want them to feel like they are on a tropical island of Cuba, in a nutshell.
Inspiration
Well, I'm a first generation Cuban-American. My parents came from Cuba in the 70s and I feel there is this responsibility that I have being first generation to kind of continue and showcase Cuban culture and its tradition. I feel like I have that weight on my shoulders now. It's a wonderful feeling. I want to keep passing that torch down to future generations.
Three Years in the Making
I just wanted to throw a small party [laughs]. My background is in marketing on the production side and I produced other cultural festivals. I don't know. It just lit up like a light bulb. I am 100 percent Cuban, my parents are Cuban, I love my culture, I love celebrating, I love gathering with family. So I thought this needed to be done on a larger scale. So I took it into my own hands. And here we are three years later and it's a major festival in America.
Cuban for a Day
It feels good to have people take notice. We try hard to raise the bar. As you know there aren't tons of Cubans who live in the area, so we try to cater to everyone. If you ask me, it's a Latino fest; we just all have to be Cuban for that weekend. It's a diverse culture and you can see that based on the entertainment we set up, we really try to cater to everybody. At the end of the day, whether you are Cuban, Puerto Rican, or Mexican I think it's important that the message is we come together and celebrate that culture.
Feeling Speechless
Favorite part, I can't even enjoy the festival [laughs]. I will say when I do have a little breather I like to get on the stage and look over the crowd. To see just an endless sea of people…that's what I look forward to. That feeling is speechless.
On Saturday, Aug. 4th marks the kick-off of this two-day festival to be held at Riis Park. For more information, visit www.thecubanfestival.com.