By: Celia Martinez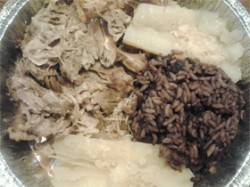 In honor of the 3d annual Festival Cubano that will take place this weekend I embarked on a mission to find delicious Cuban cuisine at a reasonable price through out the Chicago land area. However, being a vegetarian, I thought it might be challenging to try all dishes, so I brought in the cavalry to help with some of the non-veggie-friendly cuisine. My team consisted of: Arturo, 30; Humberto, 29: Me, 27; Maria, 24; and Daniel; 21.
My first stop was at Café Caribe. Located on 6138 W. 26th St. in Cicero, Café Caribe is the epitome of mom and pop: Great food plus great service equals great experience. Owned and operated by husband and wife Mel and Liz Cruz, the café-style restaurant has been in business for a year and a half. Although the majority of their cuisine is Borinquen, Café Caribe features Cubanos, Cuban style sandwiches stuffed with ham, shredded pork, cheese, mustard and pickles.
Price: $5.75, $6.75 for a double.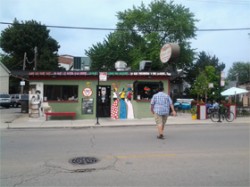 My second stop was in Bucktown's Café Bolero 2252 N. Western Ave. We ordered several Tapas including croquetas de jamon, empanadillas de vegetales (which were absolutely delicious) and yuca al mojo criollo, but the most popular were the platanos rellenos de pollo. Served in 4 individual cup-shaped fried bananas and stuffed with a mix of chopped chicken and vegetables in sauce, Arturo and Maria were smitten with the flavorful combination. Price: $7 www.cafebolero.com.
Down the block from Café Bolero was Siboney Cuban Cuisine, 2165 North Western Ave, which was where I landed next. Humberto loved their ropa vieja, a traditional Cuban dish of shredded flank steak, cooked in Creole sauce and served with a side of white rice, sweet plantains and black beans. Price: $15.99 www.siboneychicago.com.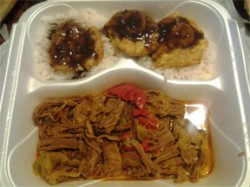 My next stop was at the 90 Miles Cuban Café, located at 3101 N. Clybourn The fast-food style restaurant boasts and award winning Cuban sandwich, so I opted for the vegetarian alternative. The veggie sandwich consisted of tofu cooked in creole sauce, black beans, sweet peppers and onions. This is a great place for vegetarians as the menu contains so many vegetarian options. Price: $6.95 www.90milescubancafe.com.
My last stop was in Elmwood Park's Café Cubano, 7426 W. North Ave. and decided go a pork dish. The very friendly and helpful staff suggested the Lechon dinner, which came with a hefty serving of the pulled pork, yuca and rice with black beans. Price: $13.95 www.CafeCubanoChicago.com.