By: Celia Martinez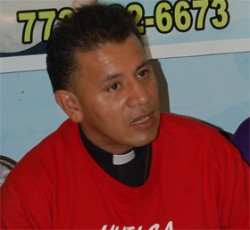 It was a joyous occasion last Saturday, as Father Jose Landaverde and his parishioners celebrated the fifth anniversary of Our Lady of Guadalupe Anglican Catholic Mission. The celebration began in the afternoon with a mass at the church and supporters then joined Father Landaverde for dinner and dancing in the Berwyn restaurant, La Quinta de los Reyes. "This is to announce with great happiness the five years of the mission," said Father Landaverde.
Among those in attendance were the Arroyo Brothers, Lorenzo and Elfego and 23-year old Jorge Mariscal, who weeks before, along with Father Landaverde, held a hunger strike in order to put pressure on Chicago hospitals that had refused to give them treatment and place them on the National Organ Transplant wait list due to their status as undocumented immigrants.
In the two-week duration of their hunger strike, Landaverde received numerous death threats in the forms of letters, and he along with five others wound up in the hospital due to malnutrition. However, none of these efforts were in vain as University of Illinois Medical Center CEO, Joe Garcia decided to meet with Father Landaverde and review the case of Lorenzo Arroyo and Rush University Medical Center agreed to place Elfego Arroyo on the organ wait list.
"They have kept their promise," said Lorenzo Arroyo of the hospitals. "They will soon begin my evaluation process and my brother is already on the wait list."
Father Landaverde said that the purpose of the mission was "to create hope for those without hope," and when he first came to Little Village he found four very critical aspects in the community: a high percentage of domestic violence, the persecutions of undocumented families from Immigration, profound poverty, and a great sadness and desolation in residents who's voices were not being heard.
In the five years since the mission first opened its doors, Father Landaverde has not only done so much to help the Little Village community, but with humanitarian help, he has managed to take food, medicine and even toys to Tabasco, Mexico, El Salvador and Haiti. "I would like to call myself a firefighter, right, because I have to be putting out fires everywhere!" said Landaverde with a laugh.
For Father Landaverde, reaching out to the community is not something he chooses to do it is something that he has to do. It is simply in his nature; at least, it is what his parishioners believe.