By: Carmen Lopez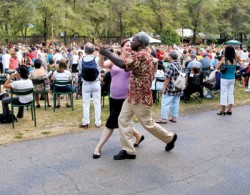 The temperature is slowly dropping signaling that summer is coming to a bittersweet close. But, there is still an opportunity to enjoy the last days of summer at several events that will be occurring throughout Chicago this weekend.
On August 16 at the Grant Park Spirit of Music Garden, Chicago Summer Dance Series will be offering free dance lessons by Tierra Colombiana Folkloric Dance Ensemble. Grupo Cumbé will be providing live music. Lessons will be from 6 to 7 PM. Dancers are welcomed to stay and practiced their new dance moves from 7:30 to 9:30 PM.
The Unisono Festival in Pilsen will kick-off August 18th on 18th street and Paulina St. from noon to 10 PM. The festival will feature performances by Pacha Massive, Los Rakas, and more. The event will blend music and culture to educate attendees on what Pilsen has to offer.
On August 17 through 19, Chicagoans can enjoy the North side Summer Fest on Lincoln Ave and Irving Park Road. The event will feature live music, arts and crafts, and food and drink vendors. Attendees are encouraged to witness the amateur hot dog eating contest that will be taking place on the last day of the festival.
On August 18 and 19, the Chicago Air and Water Show will occur at North Avenue Beach. However, the event can be viewed from Fullerton Beach to Oak Street Beach. The show will be from 10AM to 3 PM on both days. Onlookers can enjoy watching civilian aircrafts as well as military aircrafts.
"El Alma de la Fiesta" exhibit will be leaving the National Museum of Mexican Art this weekend. The last day to view the exhibit is August 19. The museum is located on 1852 W. 19th Street, in Pilsen. The exhibit features a detailed background on some of Mexico's most popular celebrations. For more information and museum hours visit nationalmuseumofmexicanart.org.