By: Celia Martinez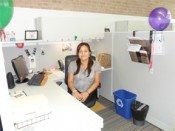 It has never been easier to further your education and attain a career-that is if the career is in a health related field. Carreras en Salud (Careers in Health), in partnership with Instituto del Progreso Latino (IDPL), Association House of Chicago, Humboldt Park Vocational Education Center (HPVEC), Wilbur Wright College and the National Council of La Raza (NCLR), offers bilingual individuals seeking careers in the health industry, an opportunity to become health care professionals.
Carreras en Salud was first initiated in 2005 and its purpose was to prepare health care professionals who could communicate fluently in two languages: English and Spanish. "It was in a way, to have more personnel that were bilingual," said Diana Alpizar, lead case manager for Carreras en Salud.
The program is formatted in a way that truly allows for individuals to become successful and allows them to begin from the bottom and work their way to the career that best suits their needs and lifestyle. The careers that an individual can obtain through Carreras en Salud are a certified nursing assistant, patient care technician, licensed practical nurse and registered nurse. "We help you every step of the way," said Alpizar. "And everything is free."
This is no exaggeration. But although most applicants do qualify to receive all the classes free of charge, to be considered for the program, individuals must be at least 18 years-old, have legal U.S. residency, and have a work permit and a clean criminal background check. Then depending on individual level of education or knowledge of the English language, students are either placed in English language classes, English grade level classes, GED classes or college level classes.
Those who are accepted into the program must be willing to sacrifice their weekday evenings as lectures are held Monday through Friday from 6pm to 10pm. It's a commitment, and individuals concerned with child care need not to worry as they provide it in the building, also free of cost. Alpizar also explains that after students finish with schooling, they return to IDPL where they are given advice on how to prepare for a job interview and how to conduct themselves professionally.
"There's really no excuse," said Alpizar. "We provide everything, even the school supplies. We even pay for transportation."
Blanca Olivares is one of Carreras en Salud's success stories. She said she first heard of the program from her fellow students while taking English classes and decided to look into it. "I really wanted to do something with my life, I wanted to feel useful," said Olivares. "I wanted to take care of the elderly."
Olivares began her journey in the program from the bottom: taking English classes, then working her way up to receive her GED and finally taking college level classes at Wilbur Wright College. It took her five years to become a licensed practical nurse and said that she has succeed thus far because of the constant guidance she received from Carreras en Salud. "Every time I finished with a level, Carreras en Salud always directed me where to go next, so I never got lost. I couldn't get lost," she said.
Now 47 years-old, Olivares is about to enter into the registered nurse completion program, an accomplishment she said came with much sacrifice, but overall has been a great experience.
"It was very difficult because you have to sacrifice your family," said Olivares. "But my family is very proud of what I've accomplished. This is my dream. No one can stop you from achieving your dream but yourself," she added.