By: Carmen Lopez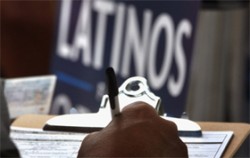 The 2012 election is less than one hundred days away, so members of the Illinois Coalition for Immigrant and Refugee Rights (ICIRR) are diligently working to increase the number of registered voters in Illinois. Annabel Torres, an ICIRR fellow, is amongst those fighting to strengthen the Latino vote. Recent studies have shown that the Latino population in the United States is growing. Despite this growth, the number of Latino voters is still low.
"I think that it's a matter of making things personal," mentioned Torres about why the Latino vote is low. Torres and other ICIRR fellows, have onsite voter registration as well as door to door registration. Through these methods of registering voters they are able to make things more personal. "It's us Latinos saying hey this is why you should do it," Torres said.
"There needs to be hope instilled in these people," mentioned Torres about Latinos who are disillusioned with the government. Torres encourages Latinos to become registered voters, for that is the only way they will be able to pick the right people to represent them.
The ICIRR fellows will be working up to Election Day to try and strengthen the Latino vote. They will be continuing their quest to register voters door to door and at various locations. Those who are searching for a location to register to vote can visit icirr.org for more information. ICIRR will be hosting a DREAM Relief workshop August 15 at Navy Pier. Eligible students will receive assistance in applying for the deferred action relief program at the workshop.