By: Celia Martinez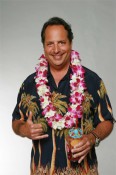 Perhaps one of the most well known actor/comedian in the industry, Jon Lovitz has landed television roles on Saturday Night Live, The Critic, Friends, Seinfeld, The Simpsons and in movies like The Wedding Singer, The Benchwarmers and most recently, Casino Jack. The legendary comedian spoke to Lawndale News about the Jackson family, his distinct voice and why he almost didn't audition for Saturday Night Live.
What made you want to audition for Saturday Night Live?
I didn't. My agent said, 'What about Saturday Night Live?' I said 'I have a better idea, how about I land on Pluto?' I [didn't] wanna hear about it, I was all mad at him. I just thought it was another world. I never thought of being on that show, it was just another world for me.
What is it about [SNL] that opens so many doors?
People from then on looked to show to be able to break out and if you did you had a shot a movie career and at the time they used to say you can't do T.V. and movies but that was for a long time the only show that if you did it would help you.
Why is it that you've remained so consistent throughout the years?
I don't know, I think I'm lucky… The main thing is I never walk through any part or any job, I always go all out and do my best and then if you do that they want to hire you back.
What have you enjoyed doing the most? Stand up, acting, voice-overs?
I mean stand up is great, you get to write your own material and it's a lot of fun but I really love acting too… I think live television is the most exciting thing I've ever done because it combines everything: you know it has the audience, live audience and you're working on camera. It just combines everything.
You have such a distinct voice. Do people ever hear your voice and approach you?
Yes. You know what? This little girl said 'Are you Jon Lovitz?' and I said yeah and she goes 'nice to meet you' and I go nice to meet you and she said 'oh you really do talk like that.'
Do you think that in a way your voice has contributed to your success?
I asked my professor 'do you think I can be a professional actor?' he said 'Yes. I think you have everything except your voice. You need to work on your voice.' I teased him about it later I said, 'oh you still think my voice is wrong?'
I read that your father was the family doctor to the Jackson family.
He was an intern, but yeah.
Did you ever interact with them?
Well yeah. They lived in Encino and I grew up in Encino and Tarzana and they're right next to each other. I'd see them in school. Latoya Jackson was in my class in 8th grade… When I was 12 years old riding my bike with my friend and we were like 'do you think Michael Jackson lives around here?'… All of a sudden Michael came shooting out on his bike as we were talking…My father always said they were a very, very nice family and that Michael was like a fine, decent young man.
Did you ever think that you might become a doctor?
No because I saw how hard he worked…I asked [my father] if he wanted me to become a doctor and he said 'I would love it but I would never tell you to do that' He said do what your passion is at. Whatever you wake up in the morning and can't you wait to get to work.
When did you realize that this was your passion?
Well I wanted to do it since I was, I don't know four. And then I wanted to be an actor and a baseball player…I was obsessed with baseball from seven to fifteen but I wanted to do that and be a comedian. I just wasn't good enough. I finally stopped baseball and I loved it, I loved it, but I just wasn't good enough… I saw "Take the Money and Run" by Woody Allen when I was 13 and I decided 'I want to be a comedian like Woody Allen.'
Any future projects we can look forward to?
Well I'm doing my stand up all over the country and I just did two movies for Adam Sandler. [One is] Grown Ups 2.
So from SNL to a movie career and television career?
Well you have to understand. Anybody that's making it in acting it's not because-they didn't get lucky. Nobody says, 'here you go.' You gotta work hard and you have to work smart.
You can catch Lovitz this weekend performing at the Chicago Improv, 5 Woodfield Rd, Schaumburg, inside the Woodfield Mall, August 31st through September 2nd. For times and ticket information, call 847-240-2001 or visit www.improv.com.