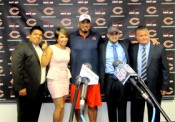 The Chicago Bears and WLEY-FM "La Ley 107.9FM" announced a new radio partnership that will bring the Bears' football games to Chicago's Latino community. During a press conference Tuesday morning, The Chicago Bears unveiled its official Spanish radio coverage partner, WLEY-FM "La Ley 107.9FM" to bring the Bear's football games to the Spanish radio dial for the first time in history in Chicago for another competitive season. Highlights of the partnership include:
WLEY-FM-"LA LEY 107.9FM" will become the Spanish language flagship station of the Chicago Bears with the on-air team of Jose Luis Marquez "El Pitufo" and Liz Liz "La Dama del Deporte" is a long time sports broadcaster, while Marquez is one of the most well-respected and tenured Spanish radio voices in Chicago.
WLEY-FM-"LA LEY 107.9FM"will also have a significant presence inside Soldier Field on game days, at team events throughout the year and on ChicagoBears.com.