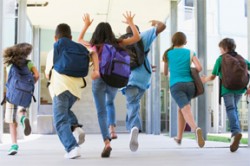 If you've ever watched children walking to school, you've seen that some of them look like they've packed for the entire year, not just the school day. Carrying overloaded backpacks is not the exception today, but the rule and it can put some young backs in jeopardy.
A backpack can be a great help to school children, but it needs to be packed properly to avoid a lifetime of hurt, suggests Chiro One Wellness Centers. Chiro One Wellness Centers advise everyone—especially the forty million teens who carry backpacks to school to carry no more than ten to fifteen percent of their body weight in backpacks. Avoid back pain and back injury by following these suggestions:
Organize. Pack heavier items closest to the back. Pack items in compartments so the weight is evenly distributed.
Select packs with heavily padded shoulder straps and lumbar support.
Use both shoulder straps to distribute weight evenly across the back unless it is a one-shoulder pack.
Tighten the straps to keep the backpack close to the body. Make sure the backpack does not extend below the lower back.
Squat down, bending at the knees, not at the waist, when lifting or lowering a heavy backpack and maintain good posture.
Carry only what's needed.