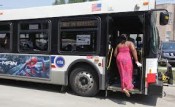 After years of struggle and countless meetings between residents of Little Village and the Chicago Transit Authority, CTA President Forrest Claypool announced CTA will extend service to 31st Street. "With the support of the residents of Little Village and Little Village Environmental Justice Organization, I am excited that I will hear the sound of busses carrying children, families, and seniors from Little Village to where they need to go," said State Senator Martin Sandoval in a press release.
The new 31st Street bus route will run between Kedzie and Cicero avenues in the Little Village community and the Town of Cicero. "This extension of service not only addresses a need for east/west public transit service in the area, it also strengthens the connection to an existing transportation network that serves the Chicagoland region through the combination of CTA, Pace and Metra services," said CTA President Forrest Claypool.
Currently, the existing #35 buses travel west from 35th Street/Cottage Grove to 36th Street/Kedzie. Once the service enhancement is implemented this fall, westbound #35 31st/35th buses will travel over the regular route to 36th Street/Kedzie and then continue north on Kedzie to 31st Street, west on 31st Street to Cicero Avenue, north on Cicero to the existing CTA bus terminal at 24th Place.
Service along the route extension will be provided seven days a week, between the hours of 5 a.m. to 8 p.m. and at a frequency of 10-20 minutes – depending on the time of day. Hours of service along the #35 route east of Kedzie will remain the same from approximately 4 a.m. until 12:30 a.m. seven days a week.
Federal funds from a Job Access Reverse Commute (JARC) grant along with local matching funds will be used to help support operational costs of the experimental service enhancement.