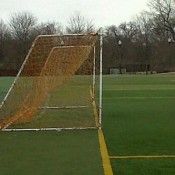 Little Village, the most park-starved neighborhood in the city, will get some breathing room Friday, Aug. 31st with the grand opening of a new soccer field at 31st Street and Lawndale Avenue.
Residents and neighborhood organizations will join 22nd Ward Alderman Ricardo Munoz at 4p.m., to celebrate the new field on the shared grounds of Gary Elementary and Ortiz de Dominguez Elementary schools. The new field will allow nearly year-round play, providing much needed recreational space for students and residents throughout the neighborhood.
Enlace Chicago, a community development organization, and Beyond the Ball, which seeks to expand access to recreation and life skills for local youth, generated initial steam for the field, while Alderman Munoz led the effort to get money to pay for it. And that was no small thing. The U.S. Soccer Foundation kicked in $70,000, with Munoz securing the remaining $1.5 million in city funds. Chicago Public Schools is managing the project.
Also at the ceremony, MetLife Foundation will honor Beyond the Ball and the Chicago Police Department for their creative efforts to transform spaces with a history of crime and violence into safe and accessible recreational areas.