Courtesy of Respiratory Health Association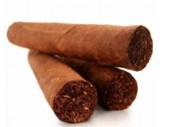 The Center for Disease Control and Prevention released a study on Monday showing sweet-flavored cigars and cigarillos are popular among U.S. adults. The study, "Flavored Cigar Smoking Among U.S. Adults: Findings from the 2009-2010 National Adult Tobacco Survey," reported that 42.6 percent of people who smoked a cigar in a 30-day period smoked a cigar flavored like candy, fruits, chocolates, or other sweets.
Nationally, prevalence of the use of these products is highest among people who are less-educated, have a lower income, are Hispanic or LGBT, or are 18 to 24 years-old. Recent changes in tobacco taxes, which now apply to cigars (including flavored cigars,) and policies that prohibit tobacco use are part of an overall community effort to reduce the toll of tobacco use by limiting access to and the appeal of tobacco products, especially to youth and young adults. Some local strategies include:
Gov. Quinn signed legislation in June that doubled Illinois's tax on other tobacco products, including chewing tobacco, cigars and smokeless tobacco products.
As of March 1, Cook County increased taxes on non-cigarette tobacco products, including cigars, loose tobacco and chewing tobacco.
In January, City Colleges of Chicago implemented a 100 percent tobacco-free campus policy, which prohibits tobacco use (including cigarettes and smokeless tobacco products) on all college property.
For more information about Respiratory Health Association, visit www.lungchicago.org.