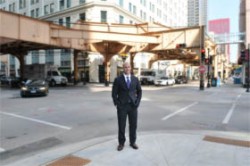 MillerCoors has announced this year's Líderes, 12 outstanding individuals who are making a difference in their communities. The 12 Líderes, who were nominated by prominent non-profit organizations from across the country, were selected by MillerCoors based on their achievements and impact within the U.S. Hispanic community.
The public will select one MillerCoors 2012 Líder of the Year via online vote, open today through October 31 on MillerCoorsLideres.com. The winner will receive a $25,000 grant to develop and implement a community leadership program with his/her sponsoring nonprofit organization and MillerCoors. Among the 12 candidates, is Chicago's very own Sergio Fernandez of Hispanic Alliance for Career Enhancement.
Last year, Andrea Delgado from the Labor Council for Latin American Advancement (LCLAA) was selected as the MillerCoors 2011 Líder of the Year with 42 percent of the 25,464 votes cast. LCLAA used the $25,000 grand prize to offer their members a unique skill-building workshop.