Fruit salsa is a fresh way to add more nutrients to the plate while calming the heat of peppers, and these types of flavors pair nicely with the mildness of fish. The great thing about making your own meals is that you control the items, so you can easily fit in fruits, vegetables, and make lower sodium choices. Here's a beautiful recipe that comes together in half an hour for a quick meal at home, but it looks so good you can serve it to guests this spring.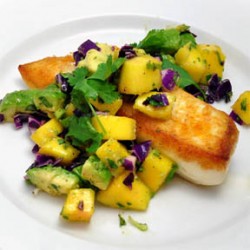 Seared Halibut with Avocado Mango Salsa
Prep Time: 20 minutes
Cook Time: 10 minutes
Amount: 4 servings

Ingredients:
Juice of 1 lime, divided
1/4 cup wild harvest™ organic extra virgin olive oil
2 tablespoons chopped wild harvest™ organic fresh cilantro, divided
1 teaspoon chopped garlic
1 teaspoon wild harvest™ organic ground cumin
1/2 teaspoon chili powder
1 pound halibut fillets or steaks
1 cup diced mangos
1 medium ripe avocado, peeled, pitted, diced
1/2 cup diced red onions
1 jalapeño pepper, seeded, diced

Directions:
1. In small bowl, combine lime juice (reserving 1 tablespoon), oil, 1 tablespoon cilantro, garlic, cumin and chili powder; salt and pepper to taste.
2. Place halibut in a shallow dish; pour marinade over fish, turning fish to cover. Set aside.
3. In medium bowl, combine mango, avocado, onion, jalapeño, reserve lime juice and remaining 1 tablespoon cilantro; salt and pepper to taste.
4. Heat large skillet over medium-high heat. Add halibut and half the marinade. Sear halibut on both sides; reduce heat to medium and continue cooking until cooked through and fish flakes easily with a fork (about 10 minutes per inch of thickness).
5. Serve Avocado Mango Salsa over halibut.

Nutrition Information:
Serving Size:
1/4 of recipe

Amount Per Serving:
Calories: 300
Total Fat: 19g
Saturated Fat: 2g
Cholesterol: 35mg
Sodium: 70mg
Carbohydrates: 13g
Dietary Fiber: 5g

Watch for up to date information every week. If there is a specific health or nutrition related issue you would like more information on, please e-mail us at nutricion@lawndalenews.com or write to:

Lawndale News
5533 W. 25th St.
Cicero, IL 60804
ATTN. Fresh Take on Health and Nutrition Column from Jewel-Osco

Until next time!

The 2010 Dietary Guidelines for Americans suggest that we should fill half our plates with fruits and vegetables at meals, and eat more seafood for health benefits. These delicious foods offer a great way to makeover menus to ring in the new season as well as add color to the plate.