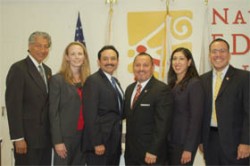 The National Latino Education Institute (NLEI) observed Latino Veteran's Recognition Day on Monday, Sept. 24, as it hosted an award presentation honoring Mr. Michael Anaya Sr., director of the Jesse Brown VA Medical Center. The Illinois Department of Veterans' Affairs and Governor Pat Quinn presented Anaya Sr., with the award.
The "Veteran of the Month" is the latest in a series of events with a special emphasis on veterans hosted or organized by NLEI. The agency has assisted veterans by bridging military service to educational credentials, among other services. In November 2012, NLEI will sponsor a resource and employment clinic for veterans. According to U.S. Census figures, nearly 811,800 veterans live in Illinois.
Under Anaya's leadership, the Jesse Brown VA Medical Center provides care to approximately 58,000 enrolled veterans who live in the City of Chicago and Cook County, Illinois and in four counties in northwestern Indiana.