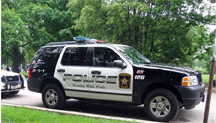 Aproximadamente a las 5:25 a.m. del viernes, los paramédicos del Departamento de Bomberos de Berwyn fueros enviados a una residencia en la cuadra 1300 de la Avenida Home para una llamada desconocida de asistencia de emergencia médica. Al entrar al apartamento, los paramédicos descubrieron a una mujer sangrando del rostro y a un paciente masculino que no respondía. Se descubrió más tarde que las heridas recibidas por ambos fueron producidas por disparos. Los detectives de la Policía de Berwyn y los técnicos en evidencias llegaron inmediatamente al escenario para asegurar y procesar el escenario del crimen en potencia.
El hombre sin identificar de 35 años de edad, fue pronunciado muerto en el escenario y transportado a la Oficina de Exámenes Médicos del Condado de Cook para su autopsia. La mujer sin identificar de 30 años de edad recibió tratamiento en el escenario y fue transportada a un hospital local por sus heridas. La naturaleza y gravedad de las heridas aún se desconoce.
Tres otros miembros de la familia se descubrieron en la residencia mientras dormía y sin sufrir ningún daño por el personal de emergencia que llegó al lugar. En base a la información inicial y a las circunstancias presentes, se cree que el hombre fallecido de 35 años de edad y la mujer de 30 años de edad, víctimas de disparos de arma de fuego estaban casados y separados el momento de los disparos.
At this time, the Criminal Investigations Unit is in the process of verifying all of the essential facts and evidentiary findings that transpired in order to put together a time line of events to identify any criminal suspects in this case.
En este momento la Unidad de Investigaciones Criminales está en el proceso de verificar todos los hechos esenciales y el descubrimiento de evidencias que se dieron para poder establecer una línea en el tiempo para identificar a los sospechosos criminales en este caso.