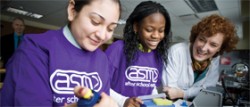 After School Matters is now accepting applications for its Spring programs, most of which begin early February. Programs in the arts, communications, science, sports and technology will be offered at 52 Chicago Public Schools high schools and at more than 100 community organizations, Chicago Park District and Chicago Public Library locations across the city, as well as Downtown at the Gallery37 Center for the Arts. In total, approximately 7,000 opportunities in more than 300 programs will be available to Chicago teens this Spring.
After School Matters unique programs offer teens an opportunity to explore and develop their talents, while gaining critical skills for work, college and beyond. A few of the innovative programs offered include:
Lifeguarding – sports37 (LaFollette Park in West Humboldt Park)
The lifeguard apprenticeship offers teens an opportunity to train to become certified lifeguards. Apprentices are trained in aquatic rescue, CPR and other life-saving skills.
Mosaic Collaborative – gallery37 (Chicago Mosaic School in North Center)
Teens learn mosaic skills and work together on mosaic design, concepts and color to create a cohesive mosaic mural work that is sustainable and a source of pride for the teens and the community. Teens can earn Service Learning Hours upon completion of the program.
BIZ Boot Camp – Innovation (Hyde Park High School in Hyde Park)
The Support Group's BIZ Boot Camp is designed to spark teens' interest in entrepreneurship. Students will learn skills in marketing, advertising, budgeting and event planning.
Teens can search for programs that interest them at locations in and around their neighborhood at www.afterschoolmatters.org. Teens must apply online and meet with program instructors to discuss and present their skills and interests.