By: Ashmar Mandou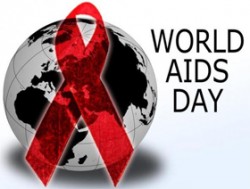 A recent study by the U.S. Centers for Disease Control and Prevention revealed youth between the ages of 13 to 24 make up 26 percent of all new HIV infections. Moreover, more than half of youth infected are unaware. This information was released just days before World AIDS Day on December 1, a global event that calls upon people worldwide to unite in the fight against HIV and encourage youth to get tested.
According to the report, 1,000 young people in the U.S. become infected with HIV each month and if left untreated, HIV will lead to AIDS and early death. Nearly 60 percent of new infections in youths occur in African-Americans, 20 percent occur in Latinos, and about 20 percent among Caucasian, stated CDC Officials. With new infections among youth monthly, CDC has estimated $400 million in HIV-related health care costs, or about $5 billion per year. The CDC also revealed that only 22 percent of sexually-active high school students nationwide have been tested.
With those alarming statistics in mind, several community-based organizations specializing in HIV/AIDS prevention across the city are encouraging youth to take advantage of their services and learn about HIV/AIDS prevention. Listed below are several organizations around the city that are hosting World AIDS Day related events and other organizations offering counseling and HIV-related information.
AIDS Foundation of Chicago
200 W. Jackson Blvd., Chicago
312-922-2322
On Friday, Nov. 30th, from 10a.m., to 4p.m., at 200 W. Jackson, on the 13th fl., AFC will offer free confidential HIV testing. Also note, The Illinois Department of Public Health is sponsoring a World AIDS Day health fair from 10a.m., to 4p.m., on Friday, Nov. 30. The health fair will be held at the ICE Chatham Theater, 210 W. 87th St.
Center on Halsted
3656 N. Halsted St., Chicago
773-472-6469
On Saturday, Dec. 1st from 9a.m., to 1p.m., the Center on Halsted will celebrate World AIDS Day by hosting a day of workshops conducted by health speakers, an art show, and much more. The event is free and open to the public. For more information, email wadrsvp@centeronhalsted.org.
Puerto Rican Cultural Center
2739-41 W. Division St., Chicago
PRCC will hold a World AIDS Day procession down Division Street until La Casita de Don Pedro where they will have an alter and vigil for those who have passed from HIV/AIDS and for those living with the disease.
Vida/SIDA AIDS Education and Prevention Program
2703 W. Division St., Chicago
773-278-6737
Part of the Puerto Rican Cultural Center, Vida/SIDA provides education, information, resources, and testing services to those at risk of or living with HIV/AIDS.
AIDS Legal Council of Chicago (ALCC)
180 N. Michigan Ave., Suite 2110, Chicago
312-427-8990
ALCC's mission is to preserve, promote, and protect the legal rights of men, women, and children impacted by HIV/AIDS. The council provides legal services to people in need and educates the public about HIV-related legal issues.
Pilsen Wellness Center (PWC)
2319 S. Damen Ave., Chicago
773-579-0832
PWC is one of the largest providers of community-based treatment services in the Midwest. PWC offers "holistic" program options addressing the quality of life for people living with HIV/AIDS. The program services include, confidential testing and counseling services for those affected or at risk of contracting the virus. For additional information, contact hiv.services@pilsenwellnesscenter.org.
Howard Brown Health Center Walk-In Clinic (HBHC)
4025 N. Sheridan Rd., Chicago
773-388-1600
HBHC is one of the nation's largest LGBT organizations. The agency serves more than 36,000 adults and youth each year and offers free HIV testing, free rapid Hepatitis C testing, and free syphilis testing.