Por: Ashmar Mandou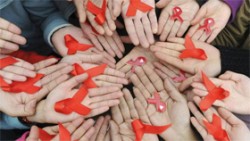 Un estudio reciente hecho por los Centros del Control y la Prevención de Enfermedades de E.U., reveló que los jóvenes, entre los 13 y los 24 años conforman el 26 por ciento de todas las nuevas infecciones de VIH. Sin embargo, más de la mitad de los jóvenes infestados no lo saben. Esta información fue publicada solo días antes del Día Mundial del SIDA el 1º de diciembre, evento mundial que pide que la gente se una alrededor del mundo para combatir el VIH y aconseja a los jóvenes que se hagan la prueba.
De acuerdo al reporte, 1000 jóvenes en E.U. se infectan con el VIH cada mes y si no se atienden, el VIH les conducirá al SIDA y a una muerte temprana. Cerca del 60 por ciento de las nuevas infecciones en los jóvenes ocurren en afroamericanos, el 20 por ciento entre los latinos y aproximadamente el 20 por ciento entre los caucásicos, declararon Oficiales de CDC. Con nuevas infecciones mensualmente entre los jóvenes, CDC calcula un estimado de $400 millones en costos de atención médica relacionada con el VIH, o aproximadamente $5 mil millones por año. CDC reveló también que solo el 22 por ciento de los estudiantes de secundaria, sexualmente activos, se han hecho una prueba a nivel nacional.
Con estas alarmantes estadísticas en mente, varias organizaciones comunitarias, especializadas en la prevención del VIH/SIDA en la ciudad, aconsejan a los jóvenes que aprovechen sus servicios y aprendan como prevenirse contra el VIH/SIDA. A continuación una lista de varias organizaciones en la ciudad que ofrecen eventos relacionados con el Día Mundial del SIDA y otras organizaciones que ofrecen consejería e información relacionada con el VIH.
AIDS Foundation of Chicago
200 W. Jackson Blvd., Chicago
312-922-2322
Viernes, 20 de noviembre, de 10 a.m. a l4 p.m., en 200 W Jacson, en el 13º piso, AFC ofrecerá pruebas confidenciales del VIH. El Departamento de Salud Pública de Illinois patrocina una feria de salud del Día Mundial del SIDA de 10 a.m. a 4 p.m. el viernes, 30 de Nov., La feria de salud tendrá lugar en ICE Chatham Theater, 210 W. 87th St.
Center on Halsted
3656 N. Halsted St. Chicago
773-i472-6469
El sábado, 1º de diciembre, de 9 a.m. a 1 p.m., Center on Halsted celebrará el Día Mundial del SIDA con una serie de talleres conducidos por oradores de salud, un show de arte y mucho más. El evento es gratuito y abierto al público. Para más información, e-mail wadrsvp@centeronhalsted.org.
Puerto Rican Cultural Center
2739-41 W. Division St., Chicago
PRCC tendrá una procesión por el Día Mundial del SIDA por la Calle Division hasta La Casita de Don Pedro, donde tendrán un altar y una vigilia para quienes han muerto a causa del VIH/SIDA y para los que viven con la enfermedad.
Vida/SIDA AIDS Education and Prevention Program
2703 W. Division St., Chicago
773-278-6737
Parte del Centro Cultural Puertorriqueño, Vida/SIDA ofrece educación , información, recursos y servicios de pruebas para quienes están en peligro o viven con el VIH/SIDA.
AIDS Legal Council of Chicago (ALCC)
180 N. Michigan Ave., Suite 2110, Chicago
312-427-8990
La Misión de ALCC es preservar, promover y proteger los derechos legales de hombres, mujeres y niños impactados por el VIH/SIDA. El concilio ofrece servicios legales a personas que lo necesiten y educan al público sobre problemas legales relacionados con el VIH.
Pilsen Wellness Center (PWC)
2319 S. Damen Ave., Chicago
773-579-0832
PWC es uno de los mayores proveedores de servicios de tratamientos comunitarios en el Medio Oeste. PWV ofrece opciones de un programa "holístico" que atiende la calidad de vida de la gente que padece VIH/SIDA. Los servicios del programa incluyen pruebas confidenciales y servicios de consejería para los afectados o para quienes están en riesgo de contraer el virus. Para información adicional, comunicarse con hiv.services@pilsenwellnesscenter.org.
Howard Brown Health Center Walk-In-Clinic (HBHC)
4025 N. Sheridan Rd., Chicago
773-388-1600
HBHC es una de las organizaciones LGBT más grandes de la nación. La agencia sirve a más de 36,000 adultos y jóvenes cada año y ofrece pruebas del VIH, prueba gratis de la Hepatitis C y prueba gratis de la sífiles.