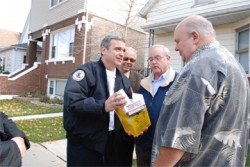 Town President Larry Dominick joined Fire Marshall Ron Opalecky and members of the Town Board to begin the distribution of smoke and CO2 detectors funded through a Federal grant.
Dominick said the town received $80,000 in Federal money and matched $20,000 to purchase 3,000 combination smoke and CO2 detectors, and also 150 special detectors for individuals who are disabled.
The first smoke detectors were presented on Wednesday to homeowners during a kick-off ceremony held at the home of Margarita Cervantes, 2409 S Lombard Ave. The Cervantes family has a disabled family member.
"One of my priorities is to keep Cicero residents safe. That includes from our active campaign to fight street gangs and keep them out of our community to insuring that every home and apartment dwelling as a smoke and CO2 detector in the event of a fire," Dominick said.
In presenting the combination Smoke and CO2 Detector to the Cervantes family, Dominick was joined by Opalecky and Town officials including Supervisor Joe Virruso, Collector Fran Reitz, Assessor Emilio "Emo" Cundari, Clerk Maria Punzo-Arias, and trustees Dennis Raleigh, Lorraine Walsh, Victor Garcia and Larry Banks.
"Smoke detectors and CO2 detectors can save lives. We see it all the time when we battle fires in homes and apartments," Opalecky said. "The alarms give residents the time they need to escape a fire and save lives."
Dominick said the Town is constantly seeking federal and state funds to cover costs for resident services to hold the line on taxes and fees. This year, for example, the Town of Cicero proposed a property tax levy that reflects no change over last year. In the past seven years, five of those years had no tax increases and two only had minor increases.
Opalecky said the combination Smoke and CO2 detectors are available to residents by visiting the Cicero Fire House at 5303 W. 25th Street beginning this week. Disabled homeowners should go through the Cicero Office of Disabilities by calling 708-656-3600 ext 537to arrange to receive a free smoke detectors. The disabilities department will also provide handymen to install the smoke detectors in their homes.