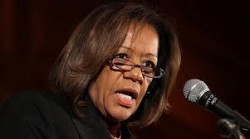 Chicago Public Schools (CPS) CEO Barbara Byrd-Bennett on Monday made a public commitment to implement a five-year moratorium on CPS facility closures starting in fall 2013, should CPS be granted the extension to announce proposed school actions that it has requested from the Illinois General Assembly.
The moratorium would provide long-term stability to students, parents and school communities after CPS develops and enacts a comprehensive plan to right-size the District, which currently has space for 500,000 students, but only has 400,000 enrolled.
In order to engage the community and seek input into CPS' space utilization issues, CEO Byrd-Bennett appointed the independent Commission on School Utilization, a nine-member group with various expertise that will make recommendations to the CEO around right-sizing the District. The Commission will hold public meetings across the city, listen and gather input from parents, teachers and school communities, meet with subject matter experts and present a written report in March to guide CEO Byrd-Bennett in making decisions around school actions.
CPS is seeking a one-time extension from the Illinois General Assembly of the Dec. 1 statutory deadline to announce school actions. CEO Byrd-Bennett will travel to Springfield during the upcoming veto session to work with the original sponsors, State Senator Iris Martinez and State Representative Cynthia Soto, as well as other legislators, to amend the law governing school actions. If CPS receives the extension, the District would announce proposed school actions by March 31, 2013, after the Commission has made its recommendations to CEO Byrd-Bennett. To learn more about the moratorium and the Commission on School Utilization, visit www.Schoolutilization.com.