Orange Cranberry Cake with Warm Orange Butter Sauce

Active Time: 20 minutes
Total Time: 1 hour 20 minutes
Amount: 15 servings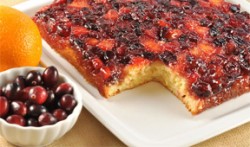 Ingredients:
1 (18.25 ounce) package yellow cake mix
1 (3.4 ounce) package Instant Vanilla Pudding & Pie Filling
1 ¼ cups Orange Juice, divided
½ cup Natural Applesauce
½ cup Butter, divided
4 Large Eggs
1 teaspoon Ground Cinnamon
2 cups fresh or frozen cranberries (do not thaw if frozen)
¾ cup Heavy Whipping Cream
1 cup Granulated Sugar
1 teaspoon Vanilla Extract

Directions:
1. Melt ¼ cup butter. In large mixing bowl, combine cake mix, pudding mix, orange juice, applesauce, melted butter, eggs and cinnamon. Beat 2 minutes at medium speed with electric mixer, scraping bowl several times.
2. Gently fold cranberries into batter; transfer to a greased Bundt® pan. Bake in a preheated 350°F oven 1 hour or until knife inserted in center comes out clean. Remove from oven and allow to cool 15 minutes in pan. Remove from pan and cool completely.
3. In small saucepan, melt remaining ¼ cup butter over medium heat. Stir in sugar, whipping cream and orange juice. Bring to a boil, stirring constantly; boil 2 minutes. Remove from heat and stir in vanilla. Serve warm with cake.

Note: Cake and butter sauce can be made a day ahead. Reheat the butter sauce slowly in the microwave until warmed and butter is melted.

Nutritional Information:
Serving Size 1/15 of recipe
Calories 330
Total Fat 13g
Saturated Fat 7g
Cholesterol 85mg
Sodium 380mg
Carbohydrates 52g
Fiber 2g
Protein 4g

Copyright © 2010 Supervalu, Inc. All Rights Reserved.

Watch for up to date information every week. If there is a specific health or nutrition related issue you would like more information on, please e-mail us at nutricion@lawndalenews.com or write to:

Lawndale News
5533 W. 25th St.
Cicero, IL 60804
ATTN. Fresh Take on Health and Nutrition Column from Jewel-Osco

Until next time!

There are simple ways to eat smarter and still include holiday treats and festive foods appropriate to the season. For example, when choosing desserts, look for one that includes a fruit and/or vegetable, like applesauce instead of oil, 100% juice and whole fruit to add interest, color, flavor and nutrition. Check out this easy idea for fall and remember, serving a variety of portion sizes is another great way to include a dessert or treat in an overall balanced menu.