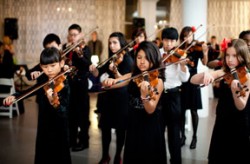 Eighteen talented Chicago youngsters, all students in Merit School of Music's Suzuki-Alegre Strings program, will pack their suitcases and string instruments for the trip of a lifetime to Matsumoto, Japan, where they will represent Chicago at the 16th Suzuki Method World Convention, March 27-31, 2013.
Merit's Suzuki-Alegre Strings' trip to Japan confirms international recognition for the program's unique blend of the Suzuki method of classical music instruction with traditional Latin folk music. In fact, more than half of Merit's world "delegates" are Latino, and many live in Chicago's Pilsen and Little Village communities, where Merit School of Music has concentrated its Latin-infused Suzuki Method instruction for more than ten years.
"This is a once-in-a-lifetime honor for these talented, hardworking students to represent not only Merit School of Music, but Chicago and the U.S. at one of the most prestigious music education conferences in the world," said Thomas Bracy, executive director, Merit School of Music.
The balance of students, ranging in age from 10 to 18, hail from Chicago neighborhoods ranging from Jefferson Park to Brighton Park, and Garfield Park to Ukrainian Village. One suburb, Berwyn, is also represented. Next March, they will join more than 2,100 young musicians from all over the globe in the birthplace of the Suzuki method to showcase their talent.
One of the lucky students representing Merit in Japan will be Brighton Park's Andrea Aguilera, 13,an 8th grader at St. Barbara Elementary School, who has been learning violin via Merit's Suzuki-Alegre Strings for the last three years. "I'm so grateful to have this opportunity" said Aguilera. "There's really no way I can repay everybody who has gotten me involved in this trip. I guess the only way I can is by playing my best at the World Convention in Japan."
The Suzuki method was developed more than 50 years ago in Matsumoto, Japan by violinist Dr. Shinichi Suzuki. The cornerstone of the Suzuki method is that children can learn music in much the same way they learn to speak their native language – through listening, imitation and repetition in a caring and supportive environment.
The 16th World Suzuki Method Convention is sponsored by the Talent Education Research Institute. The convention theme is "The World will be One, Joined Together by Children Making Music." For more information, visit http://www.suzukimethod.or.jp/indexE.html. To learn more about Merit School of Music, visit www.meritmusic.org.