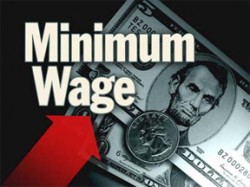 This past Monday, low-wage food and retail workers took their campaign for a $15/hour wage and a union contract public at a major rally with local allies, students, and community leaders, followed by a march through the Magnificent Mile.
The workers stood together to demand that their employers raise the floor on wages and benefits to do right by their employees and help restore basic spending in the city. "I've got three growing kids and they come first. Making $8.25 an hour, I have trouble buying enough groceries for them and they outgrow their clothes before I can afford to buy them new ones," said Melissa Escobar-Reed, a cashier at Au Bon Pain. "If I made more money, I'd spend it at the grocery store and getting my kids the things they need. That wouldn't just help me and my family, it would help everyone."
As the campaign gains momentum during the busiest and most profitable season of the year, the workers' "Fight for $15" will bring renewed scrutiny to the impact low pay at retail chains and restaurants on the Magnificent Mile has on workers and on Chicago's economy. "I'm proud to stand together with other low-wage workers to demand better from our employers, who are weakening Chicago with bottom-of-the-barrel wages," said low-wage worker Amie Crawford.
Wages nationwide are now so low that millions of workers are actually below the poverty line and qualify for public assistance. In Chicago, a recent report revealed the share of employees 18 to 64 working in low-wage jobs rose to 31.2 percent last year from 23.8 percent in 2001, which poses a real threat for Chicago workers and for the city's consumer-driven economy.