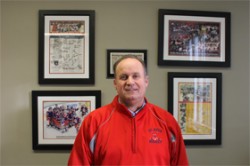 Nine Kennedy Cups. Two state titles. One state runner-up finish. Five-hundred wins. Not bad if you are talking about the accomplishments of a high school hockey program. How about if you are talking about the accomplishments of one man? St. Rita Hockey coach, Craig Ferguson notched his 500th career victory on Saturday morning with a 3-0 victory over Glenbrook South. This is just another milestone in what has been an illustrious career.
"Winning 500 games just means that I've coached for a long time," stated Ferguson. "I've had the opportunity to coach at two great schools and have been fortunate enough to coach some great teams and players."
Ferguson has been a head coach for 15 years, the first six coming at Mt. Carmel High School while the last nine years he has coached the Mustangs of St. Rita. Ferguson has had a wealth of success at both institutions garnering 4 Kennedy Cups at Mt. Carmel and 5 while at St. Rita. Ferguson has advanced his team to 3 state title games the first being a runner-up finish in 1998 while the last two came in the red and blue as he led the Mustangs to championships in 2010 and 2012. This cemented his legacy in Illinois Hockey forever.