By: Ashmar Mandou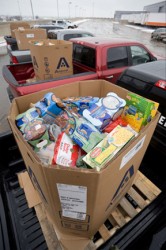 It's that time of year, again when we take a moment out of our day to reflect on our many blessings and share in the joy of gratitude with our loved ones. So in the spirit of reflection and thankfulness, we at Lawndale Bilingual Newspaper would like to take a moment to thank you for all your years of support and loyalty. We work hard each week to bring vital news into the homes of our community members and we look forward to continue doing so. We would like to wish our readers a wonderful and memorable Thanksgiving weekend. That said, whether you are enjoying the holiday weekend with your loved ones or spending it along, we have created a list of great events for you to enjoy. We invite you to take a look inside.
Fun for the Family
McDonald's Thanksgiving Day Parade
This annual favorite keeps getting better and better as millions of denizens will converge on State Street to catch holiday-themed floats, local marching bands, talented dance troupes, and a variety of cultural entertainment on Thursday, Nov. 22. This year, McDonald's Thanksgiving Parade will take place live on State Street between Congress Parkway and Randolph Street in downtown Chicago from 8a.m., to 11a.m. For more information about the McDonald's Thanksgiving Parade, contact Chicago Festival Association at 312-239-0457 or log on to www.chicagofestivals.org.
Morton Arboretum is Free on Thanksgiving
For those looking to celebrate Thanksgiving with an outdoor excursion can look no further than the Morton Arboretum. Families can enjoy 16 miles of peaceful trails and nine miles of paved roads. On-site nature gems include Meadow Lake, evergreens, and more. Morton Arboretum Thanksgiving hours are 7a.m., to sunset. Morton Arboretum is located at 4100 Illinois Route 53, Lisle, Illinois. For more information, visit www.mortonarb.org or call 630-968-0074.
Christkindlmarket
Start off the holiday season right with a visit to Christkindlmarket, which opens Wednesday, Nov. 21. The Christkindlmarket is the city's largest outdoor Christmas festival and includes arts and crafts. Festival goers can enjoy European inspired dishes and a meet and greet with Santa Claus himself. The Christkindlmarket is open daily through December 24, 2012 at the Daley Plaza, 50 W. Washington.
Shedd Aquarium
Spend a day at the John G. Shedd Aquarium and catch some of the most intriguing animals on the planet! During Thanksgiving, the Shedd Aquarium will host special hours for families to enjoy and spend Thanksgiving Day doing something a little different. On Thanksgiving Day, the Shedd will close its doors at 4p.m., with ticket sales ending at 3:15p.m. That's plenty of time for you to explore great exhibits, such as Waters of the World, Caribbean Reef, Amazon Rising's, and much more. For more information about the Shedd Aquarium, visit www.sheddaquarium.org or call 312-939-2438. You can also visit the aquarium at 1200 S. Lake Shore Dr.
Philanthropic Mood
Greater Chicago Food Depository
Year after year, the Greater Chicago Food Depository recruits thousands of amazing volunteers to help with the distribution of food to food pantries, soup kitchens, and shelters to help feed adults and children in Cook County. Last year, the Food Depository distributed 64 million pounds of nonperishable food and fresh produce, dairy products, and meat. This year is no different. The Food Depository is calling on more volunteers to give their time and spread the spirit of giving by donating their time at one of the 650 pantries and soup kitchens in the city. If you are interested in volunteering, visit www.chicagosfoodbank.org or call 773-247-3663.
The Night Ministry
Since 1976, The Night Ministry has been at the forefront of serving those struggling with poverty or homelessness. Youth and adults have sought after the services The Night Ministry provides and with increasing economic challenges; The Night Ministry's services are needed even more. This is where you can step in. Offer your time and assistance to any one of the great programs The Night Ministry provides during the holiday season and beyond. To learn more about how you can help this giving season, visit www.thenightministry.org or call The Night Ministry at 773-784-9000. The Night Ministry is located at 4711 N. Ravenswood Ave.
Catholic Charities
Compassion is the key word for those over at Catholic Charities. This year, they are asking communities across Cook County and suburbs to unleash their compassion onto hundreds of needy families this holiday season by volunteering at some of their food pantries or by donating non-perishable foods. Listed below are just two of their nine food pantries across the city. If you would like to learn more about how you can get involved, visit www.catholiccharities.net or call 312-655-7322.
Casa Catalina
4537 S. Ashland Ave.
773-376-9425
Cicero Office
1400 S. Austin Blvd.
708-329-4022