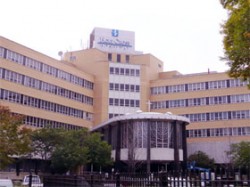 The Illinois Health Facilities and Services Review Board on Monday voted their unanimous approval for Holy Cross Hospital to join Sinai Health System. The two organizations announced they were in due-diligence discussions about the possibility of Holy Cross affiliating with Sinai given that the neighboring hospitals have a common mission of serving some of Chicago's most economically challenged communities by providing compassionate, high quality care.
In a joint statement, Sinai CEO Alan Channing and Holy Cross CEO Wayne Lerner said, "We are gratified the Illinois Health Facilities and Services Board has granted a certificate of need for Holy Cross Hospital to join Sinai Health System. Collectively, Sinai Health System and Holy Cross Hospital will continue to assure access and high quality healthcare for a large proportion of the individuals living on Chicago's south and west sides."
As a member of Sinai Health System, Holy Cross Hospital will remain a Catholic hospital and fully comply with the United States Conference of Catholic Bishops Ethical and Religious Directives for Catholic Healthcare. The Sisters of St. Casimir will remain the Religious sponsors of Holy Cross Hospital.
Holy Cross will be the fourth hospital in Sinai Health System, joining Mount Sinai Hospital, Sinai Children's Hospital, and Schwab Rehabilitation Hospital. Sinai also includes Sinai Medical Group, Sinai Community Institute and Sinai Urban Health Institute. The transaction is expected to be completed during January 2013.