Courtesy of Voices for Illinois Children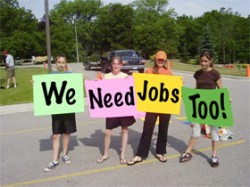 Far too many Illinois teens and young adults are not in school and jobless, veering toward a path of chronic underemployment as adults and failing to gain the skills employers need in the 21st century, according to a new national KIDS COUNT® report from the Annie E. Casey Foundation.
Nearly 6.5 million U.S. teens and young adults are not in school and jobless, according to the report, Youth and Work: Restoring Teen and Young Adult Connections to Opportunity. In Illinois, nearly 270,000 Illinois teens and young adults are not in school and jobless, a 16 percent increase since 2000. Equally distressing, the number of employed youth (ages 16-24) in Illinois decreased by 19 percent in the past decade, from 965,000 in 2000 to 779,000 in 2011.
The report discusses the numerous obstacles facing many young people ages 16 to 24. Often described as "disconnected youth," they encounter greater competition from older workers for increasingly scarce entry-level jobs, especially in light of the recession, and lack the advanced skills required for the limited well-paying jobs that are available. They often don't graduate from high school on time or are not ready for college, further decreasing their employment options. And many contend with hurdles beyond their control, such as growing up in poverty, having few working adults as role models, attending low-performing schools, and living with a single parent.
In addition, the latest data from the U.S. Census Bureau's Current Population Survey shows more than 20 percent, or 1.4 million of these youths, have children of their own, which means their inability to find work and build careers can perpetuate an intergenerational cycle of poverty.
To address the complex issues facing today's teens and youth in Illinois, Voices for Illinois Children is a leader and convener of the statewide advocacy organization ACT Now. ACT Now is a coalition of organizations that support teens and youth, including after-school programs. Youth and Work emphasizes the need to provide multiple, flexible pathways to success for disconnected young people and find ways to reengage high school dropouts. To read the full report, visit Voices for Illinois Children at www.action.voices.org.