By: Ashmar Mandou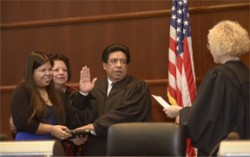 It was a historic and humbling moment for Judge Jesse G. Reyes as he was sworn in as the first Latino judge to be elected to the Illinois Appellate Court on Monday.
"This truly is a remarkable moment," said Judge Reyes. "It proves if you are willing to work hard and dedicate yourself to your goal, anything is possible." Since he could remember, Judge Reyes has always harbored a passion for law and the way lawyers maneuvered their case with ease. "When I was in college I would visit the court houses and just sit there and listen," said Judge Reyes. "I was always fascinated by the judges and lawyers and how the system overall worked. I would watch how lawyers spoke from memory…everything seemed to be spontaneous. It drew me in."
Judge Reyes, who began his law career as an inquisitive student at the John Marshall Law School, has served as a judge for more than 14 years, most recently in the Cook County Circuit Court Chancery Division's Mortgage, Foreclosure, Mechanics Lien Section. He was elected on November 6 after winning the March Democratic primary.
"We are so proud to have Judge Reyes, one of the hardest working public servants in Illinois, on the Appellate Court," said Illinois State Senator Iris Martinez in a statement. "Judge Reyes has always demonstrated a deep knowledge of both the law and the needs of our communities, and I know the people of Illinois will be well served by his presence at the Appellate level."
In his new role as Judge of the Appellate Court, Reyes hopes to ignite the same passion he has for the law in the younger generation. "Young people have this perception of what the court does through television and what young people don't realize is that the Appellate Court has another aspect to it," said Judge Reyes. The responsibility of the Appellate Court is to review any matter that is appealed from the trial level, which according to Reyes can range in various topics from criminal to civil issues. "I really hope to make a difference as judge in the Appellate Court level and teach the younger generation about the importance of furthering their education."
Among his many achievements, Judge Reyes served as past President of the Illinois Judges Association and Illinois Judges Foundation. Before his election to the bench, Judge Reyes garnered 13 years of legal experience in both state and federal courts, was employed with the Law Department of the Chicago Board of Education and represented the Board in litigation matters. He has published and lectured for the American Bar Association, Chicago Bar Association, Hispanic National Bar Association, and the Illinois State Bar Association, among others.
"I have watched Judge Reyes go from a young law student to a venerable judge and I could not be more impressed with his work," said Dean of John Marshal Law School John Corkery in a statement. "Judge Reyes has always returned to us here at John Marshall to support the students and help cultivate up and coming young leaders. He has been a valuable member of the John Marshall community and we are so glad to see him join the Appellate Court."
His own accomplishments are what Judge Reyes believes will motivate young people to follow their dreams in life. "When I speak to young people I make sure to tell them the power of pursuing their education," said Judge Reyes. "No matter what they want to do in life, there are going to be various avenues to get there, but the best way is to travel down the road of education."
Among the supporters who were on hand to congratulate Judge Reyes on his latest feat, were Illinois Supreme Court Chief Justice Thomas Kilbride, Attorney General Lisa Madigan, and Chief Judge Timothy Evans.