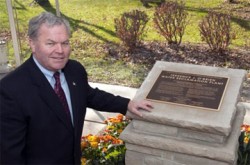 Metropolitan Water Reclamation District of Greater Chicago (MWRD) Board of Commissioners President Terrence J. O'Brien has presided over his last meeting, and to honor his 24 years of elected service, his eight fellow commissioners announced during Board meeting that the North Side Water Reclamation Plant's name would be changed to the Terrence J. O'Brien Water Reclamation Plant.
Terrence J. O'Brien was first elected to a six-year term as a commissioner of the MWRD in November, 1988. He was the third generation of his family to work for the MWRD; his father, William O'Brien, worked as a painter lead man at the North Side WRP, and his grandfather, John Hickey, served as an operating engineer, also at North Side WRP.
President O'Brien was re-elected in 1994, 2000 and 2006. His proven leadership abilities helped him to be elected president of the MWRD by his fellow commissioners in 1997 for a two year term. As of 2011, he had been unanimously re-elected president eight times.
"President O'Brien never missed a Board of Commissioners meeting in 24 years of service," said MWRD Executive Director David St. Pierre. "Throughout his career, President O'Brien maintained a singular, reliable focus in every decision he made—what is best for the District."