By: Celia Martinez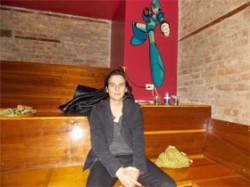 Music and art fanatics a like came together last Saturday night for a one of a kind experience as Latin music and culture guide Remezcla brought Arteque: A Music + Art Experience to Simone's Bar in Chicago's Pilsen neighborhood. The Arteque experience was sponsored by the Jose Cuervo Tradicional Mural Project, a nationwide artistic contest that awards a winning artist a $15,000 grand prize as well as a matching sum to a local arts organization of their choice.
The Chicago edition of Arteque featured Chicago artist Ruben Aguirre creating live visual art on a large canvass as alums of three of the most successful bands in Latin Alternative music (Gil Cerezo of Kinky, Tito Fuentes of Molotov and Toy Selectah of Control Machete) took turns lending their talents as celebrity DJ's for the night.
Kinky frontman Gil Cerezo said the Kinky sound of techno and electronica has always been a conscious effort to combine both Latin-American and American cultures and it is evident that that sound is something he brings with him when mixing.
"I have always liked plastic art," said Cerezo referring to the night's unique combination of music and art. "I think one art form compliments the other."
Tito Fuentes of Molotov took a cigarette break outside the bar when the house DJ put on music from Kinky. "Poor Gil," said Fuentes with a chuckle. "That's the worst, like when you go to a wedding and they play your music and then everyone looks at you, what do they want me to do?" (Fuentes raising his left hand as if toasting) "Well cheers," he added.
With Molotov, Fuentes has released seven albums and won four Latin Grammys, but the music that made him famous is not at all what he prefers to mix these days. "I like to play music as if I were at a friend's house," said Fuentes. "I like the Stooges, Run DMC, 2LiveCrew, The Rolling Stones." (Later that night Fuentes mixed "Under My Thumb" by the Rolling Stones.)
But what Fuentes said he enjoys most about music is how it can tell many stories, "Music can talk about anything," said Fuentes. "It's one of the most important art forms," he added.
Toy Selectah of Control Machete is no stranger to Chicago and the Pilsen neighborhood, or so says the Monterrey native. "I have friends here. I know perfectly where we are here in Pilsen,"said Selectah. "I see Chicago as a subsidiary of Monterrey and Monterrey as a subsidiary of Chicago," something he attributes to his many years of travel.
Selectah said that there were many interesting years following Control Machete that lead him into his not-so-new passion. "Control Machete was my platform, my first project…I like to connect… and I think a DJ can do that each and every night. I think a DJ develops a capacity to do that, to cross generations and to unite older and younger."
Selectah said that his evolution into the DJ world has been very parallel to Remezcla's own growth as an outlet for news and Latin culture in the United States and said he is more than pleased with the idea of the Arteque experience to combine music and art.
"Wow, Its incredible," said Selectah, "I really think artists can make it easier for people to understand what is going on around them."