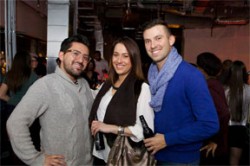 BECK'S opened a pop-up "jewelry store" along the Magnificent Mile in Chicago, last week, to celebrate BECK'S SAPPHIRE, the latest innovation in high-end beer. The space, located at 840 North Michigan Avenue, will host a series of private events in the coming weeks.
The BECK'S SAPPHIRE pop-up "jewelry store" on Michigan Avenue showcases an art installation designed by Moritz Waldemeyer, the famed German designer and engineer. The space features a clean, modern aesthetic, interspersed with the exclusive artwork designed by Waldemeyer, whose work represents a "fusion of technology, art, fashion and design."
BECK'S SAPPHIRE is brewed with German sapphire aroma hops, which are traditionally used as a finishing or conditioning hop. German sapphire hops give BECK'S SAPPHIRE its distinctly smooth finish. For more details on BECK'S SAPPHIRE, visit www.beckssapphire.com.