By: Carlos Acevedo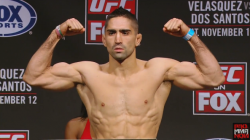 When an athlete has a sincere passion for a sport and is committed to accomplishing a set of goals, nothing can get in the way…not even good food and holidays.
Such is the story of Chicago native and UFC (Ultimate Fighting Championship) fighter Ricardo "The Bully" Lamas, who despite watching his family enjoy delicious food throughout the holidays, remained disciplined enough not stray from his diet.
On Saturday Jan. 26, the UFC will return to the United Center in Chicago for UFC on Fox, in which Lamas (12-2-0) will be fighting in the featherweight division against Erik "New Breed" Koch (13-1-0).
Training
Although there was a lot of traveling between his two camps, Top Notch MMA in Villa Park and MMA Masters in Miami, Lamas said that his training has gone very well for this fight and is happy that he didn't suffer any injuries.
"I had a really long camp for this fight because I've known about it for a while. I started training here in Chicago like I normally do, but right before Thanksgiving I went out to Miami. I stayed out there until Christmas Eve and then came back to Chicago for two weeks. After the New Year, I went back to Miami and finished up my last two weeks of training and I recently arrived back in Chicago," said Lamas.
Although he is still working on the final phase of his weight cut, Lamas said that he's happy because everything seems perfect and ahead of schedule.
"This has been a really great training camp with no injuries, which is rare, but it's great when it happens. My weight has been great, I'm in shape, I feel great and I'm ready to go," said Lamas.
Macario Ramos, Head Trainer at Top Notch MMA said he has been working with Lamas since 2004. Ramos said that he is confident that Lamas is ready for his upcoming fight against Koch.
"For training, Ricardo usually does three or four workouts per day. He'll come in and run anywhere from three to seven miles, then he'll do a light lift, and his third work out consists of pad work. We work through ten, five minute rounds, fifty minutes straight. After that, he usually rolls with his training partner Santiago for about another hour. To be honest, Ricardo is way ready. Physically, he's been ready since the last fight. Mentally he's also ready and the pressure is not on him since he's fighting in Chicago," said Ramos.
Ramos said that he would like Lamas to defeat Koch by knockout. Mentioning that he doesn't want to look too far ahead, Ramos said that he believes Lamas is a top contender who is ready for a title shot.
Evolution
It is commonly stated among fighters that improvements are made after every fight. Every fight becomes a learning experience regardless of victory or defeat.
According to Ramos, when Lamas began training with Top Notch MMA he had a strong wrestling base but now, after all these years, he said Lamas has improved his striking technique and is now at the point where he can dictate where the fight goes.
"His stand up has gotten so good that it now looks like that is his base and he likes to stand now," said Ramos.
"With my trainers, I feel that I improve every fight. It's a constant evolution. I work on my stand up all the time. I come from a wrestling background so a lot of people label me as a 'grappler' but I'm really evolving from that to become a complete fighter. I have wins by submissions but I also have wins by knockout and tko. Every fight I move closer and closer to the fighter that I want to be. I am going to continue to improve in all my techniques because I want to be a well-rounded fighter that can stand or hit the ground and scramble around. I want to be someone that can do it all," said Lamas.
When asked his thoughts about a title shot, Lamas said, "It's not even something that I'm thinking about right now. I really try not to look ahead of any fight. I'm just going to deal with what's in front of me and right now, that is Erik Koch. After the fight, no matter what happens, we'll see what's next for me."
UFC Fight History
Since the merger between the WEC (World Extreme Cagefighting) and the UFC took place in 2011, Lamas, who holds a brown belt in jiu jitsu has been on a winning streak and has a record of 3-0 in the UFC.
June 2011: Lamas made his UFC debut and defeated Matt Grice by knockout in the first round
November 2011: Lamas defeated Cub Swanson by submission in the second round
June 2012: Lamas defeated Hatsu Hioki by unanimous decision
Koch
Koch, who is known as a good striker is coming off a break which lasted over one year. His last UFC fight was in September 2011 when he defeated Nathan Brookins by unanimous decision. "Koch is a great stand up fighter, so it would be great if I could beat him at his own game. Getting a knockout would be like the icing on the cake after getting the win," said Lamas.
"But if I want to take him down I'm going to do it. I'm a very stubborn individual and when I want to do something, I won't stop until it happens. I don't back down, I'm not going to get frustrated. Even if I fail on twenty takedown attempts, on that twenty first attempt- I'm going to take him down. If I want to take him down, it's going to happen," said Lamas.
Final Thoughts
Lamas said it feels great to be back in Chicago and he said he is grateful for all who support him.
"I would like to say thank you to my teams Top Notch MMA and MMA Masters. My dad and my brother who help co-manage me. My dad for helping me find a lot of sponsors. Also thank you to all my sponsors. I have a lot of local Hispanic businesses in Chicago that sponsor me, so I want to also thank them for their continued support," said Lamas.
"It feels great. My last fight in Chicago was in 2008 before I got into the WEC. It feels great to be coming home again. Especially with an organization like the UFC, which is the biggest organization in the world. It's going to be great to have my family and friends there supporting me. I feel like the more people I have there, the more familiar voices and faces that I see and hear, just makes me feel more comfortable and the better that I perform," said Lamas.
Lamas will fight on the UFC on Fox: Johnson vs. Dodson card and can be seen live on Fox on Saturday, Jan. 26 at 5:00 p.m. PT/ 8 p.m. ET. For details visit www.ufc.com.