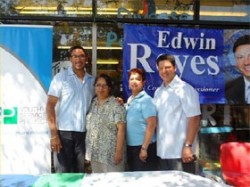 Youth Service Project has been awarded a one-year, $80,000 grant, due to the efforts and leadership of Cook County Commissioner Edwin Reyes, (8th-District). The purpose of the funding is to develop innovative projects to reduce the number of individuals returning to incarceration or detention in Chicago.
"We are highly committed to this endeavor. Our model will work closely with youth and families by identifying factors that heavily impact the incarceration rates of youth and focusing on community building. This new program will create opportunities of healing for our most disconnected and vulnerable youth by empowering them with creative and culturally rich services within their neighborhood," said Kenneth Martin-Ocasio, executive director and CEO of YSP.
Through this funding opportunity, YSP will be piloting an intensive model of outreach and support that works with individuals aged 10-24 to prevent their return to either detention or incarceration. Working together towards a common goal will ensure a better future for our youth. Since 1975 YSP has been committed to creating a nurturing environment that promotes self-awareness, accountability and respect for youth and families in the heart of the community.
"YSP provides a spectrum of enrichment opportunities and strives to enhance the quality of life while focusing not only on an individual's needs, but on their interests and strengths. Staff is strong and dedicated community advocates. I am confident that the Recidivism Reduction Program will be effective and successful under YSP's leadership," stated Cook County Commissioner Reyes.