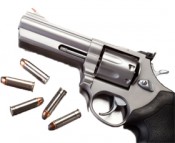 Mayor Rahm Emanuel, Cook County State's Attorney Anita Alvarez and Police Superintendent Garry F. McCarthy announced the introduction of statewide gun safety legislation that increases minimum sentencing for the most serious gun crimes and requires offenders to serve at least 85 percent of the imposed sentences.
"Criminals continue to escape with minor sentences for possessing and using firearms, and these light penalties do not reflect the severity of their crimes nor the damage they cause our communities," said Mayor Emanuel.
"The unacceptable levels of illegal gun possession and gun violence clearly demonstrate that our current laws as they relate to gun offenders fail to provide sufficient deterrence," said State's Attorney Alvarez.
According to a recent University of Chicago Crime Lab analysis, the average sentence for a crime committed with a gun was slightly longer than two years, but offenders only served approximately one year in prison. After implementing a similar mandatory minimum law in New York, offenders began serving their full sentences while the murder rate and prison population fell by double digits.
"I've seen firsthand the impact that mandatory minimum sentencing can have on a large city," said Superintendent McCarthy.
The proposed legislation would have the following impacts:
Increase the penalty for felons who carry guns, from two years to three years, with subsequent offenses requiring a minimum of five years.
Increase the minimum sentence for aggravated unlawful use of a weapon when the offender does not possess a valid FOID card and the gun is in their possession and loaded, from one year minimum to three years minimum.
Until legislation is passed, the State's Attorney has issued a directive to all Assistant State's Attorneys to pursue the maximum possible sentence on gun crimes.