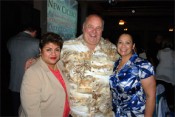 Town President Larry Dominick received the endorsements of the region's top Hispanic Leaders this week for what they termed was his "commitment to improving the lives of Hispanic residents of the Town of Cicero."
The officials endorsing President Dominick, include State Senators Martin Sandoval, Iris Martinez, and Tony Munoz; State Representatives Lisa Hernandez, Silvana Tabares and Edward Acevedo. Dominick has also received endorsements from State Senator Steven Landek and State Rep. Michael J. Zalewski.
Acevedo was particularly supportive of President Dominick, saying, "Cicero Town President Larry Dominick was one of the first mayors to support legislation that I sponsored to provide drivers licenses for undocumented residents. He is a strong friend and supporter of the Hispanic community."
Since his election in 2005, Dominick has increased the hiring of Hispanics to Town Government. "Of the new hires since 2005, almost 75 percent have been Hispanic," Dominick said. Dominick said his first priority has been to increase safety in Cicero.
"If we don't have safety, we can't attract businesses, we can't protect families and we can't provide effective services. My first act in becoming Town President was to double the size of the Police Gang Unit to crack down on street gangs which specifically prey of Hispanic families and children. Cicero families and children are safer today because of that crack down," Dominick said.
Dominick has also received the endorsement of the Hispanic Illinois State Law Enforcement Association (HISLEA) for the group's president, Danny Vega said, "for providing great opportunities to the Latino communities" that Cicero services.