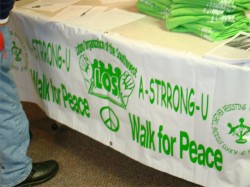 Adolescentes de A-STRONG-U, programa de prevención contra la violencia, compartieron sus historias de como el programa impactaba considerablemente su vida, durante una reunión en el Hospital Holy Cross, el pasado martes. Octogenarios con miembros de su familia, a quienes se unieron la Honorable Senadora Estatal Mattie Hunter (Distrito D-3), Representantes de Chicago Area Project, miembros del personal de Latino Organization of the Southwest (LOS), y la residente comunitaria y mentora, Diana Pérez.
El evento comenzó con unas palabras a los jóvenes por la nativa del Sudoeste de Chicago, Diana Pérez. Pérez, graduada de leyes de Loyola, habló sobre la importancia de la educación. "Es una inversion", dijo Pérez. Continuó animando a los jóvenes a permanecer en la escuela y completar un nivel educativo más alto. Pérez trabaja con LOS ofreciendo consulta a los residentes de la comunidad sobre temas de inmigración. "Tenemos una responsabilidad social que retribuir a la comunidad".
El Senador Hunter comenzó sus palabras impresionado con los muchos adultos que acompañaban a sus hijos. La Hon. Senadora Hunter destacó el poder de la comunidad. "Sin su familia y su comunidad uno no tiene nada", dijo la Hon. Senadora Hunter a una apretada audiencia. "Reuniéndonos, apoyándonos y ayudándonos unos a otros podemos hacer una diferencia en nuestras vidas, en nuestra comunidad y en nuestra vida familiar".
LOS es una organización comunitaria no lucrativa, fundada en 1992 por un grupo de inmigrantes y actualmente es la única organización latina autóctona en el sector sudoeste de Chicago. LOS surgió de la necesidad de atender problemas politicos, educativos, económicos y sociales que afectan a la comunidad latina.