By: Ashmar Mandou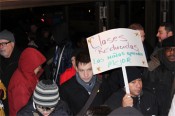 Parents, educators, and students united Monday evening to criticize the looming fate of several schools in the Logan Square neighborhood during a CPS hearing at Armitage Baptist Church.
Representatives from ten elementary schools around the Logan Square area, including Ames Middle School, Avondale-Logandale Middle School, Brentano Elementary Math and Science Academy, Darwin Elementary School, and Belmont Cragin Elementary School, voiced their discontent over the potential closing of their respective facilities stating CPS officials needed to focus more on boosting education rather than school closings.
Rose Pesaran, a parent community organizer for 23 years, took to the microphone and shared a tearful protest against the possible closing of Brentano stating CPS officials should take heart and listen to the pleas expressed by many parents in Logan Square. "Can you please tell our students behind me that they can sleep tonight because we are not closing Logan Square schools?" said Pesaran.
Pesaran, whose son is currently enrolled in Brentano Elementary Math and Science Academy, gave a moving testimonial in regards to her son's dedication and loyalty to Brentano in hopes CPS officials would take her story into account. "I have been fortunate enough to live in Logan Square for many years, however due to economic reasons I had to move to Pilsen," said Pesaran. "When we moved, my son never left Brentano. He would take that morning bus into the city every day. He did what he had to do to stay in Brentano. He has perfect attendance, he is on the honor roll, and I cannot tell him he might have to graduate at another school because CPS is closing his school."
With a group of supporters behind her, Pesaran continued, "our students behind us do what they have to do to go to school everyday and CPS is telling them that's not good enough. Our kids are doing their homework and CPS is telling them that's not good enough. Our kids have 20 to 25 students in their classrooms so they can learn properly and CPS is telling them that's not enough students, you need 30 to 36. That's not right, that's not right. This is ridiculous," shouted Pesaran over a crowd of cheers from parents and educators, who quickly broke into a 'save our schools' chant.
Monday's hearing was the first series of meetings being held around the city to collect input from parents and educators over what can be done to improve the utilization crisis and quality of education in Chicago public schools. Beginning this week, the second series of meetings will include discussions about specific schools still under closing consideration.
"I am a proud parent of Darwin Elementary School," said Lillian Gonzalez. "Closing the school or overcrowding classrooms would be a big mistake. Darwin School has been here for many years, preparing kids for their future. Many have graduated and succeeded. Please don't close down Darwin School because it would be like taking away a part of the American Dream. Darwin is diverse, united, and growing everyday and we are here to stay," concluded Gonzalez.
Educators and parents of both Darwin and Brentano fear their school may be on the chopping block when CPS is set to release the complete list of school closings next month.
However, no one gave a more moving speech that brought the crowd to their feet than 7th grader Juan Carlos Jaro of Ames Middle School. Jaro took to the podium, with CPS officials behind him, to say 'no' to closing Logan Square schools. "It should be our choice to keep neighborhood schools," said Jaro. "I want CPS to know that each student, parent, teacher, are part of a branch that cannot be easily broken. Not a rock, not CPS, not even the Marine Academy can break us," said Jaro to a standing ovation.
Jaro referred to Alderman Roberto Maldonado's proposal, introduced late last year, to convert Ames Middle School into the Marine Military Math and Science Academy. The proposal rattled hundreds of parents into protest claiming the change would provide selective-enrollment and force children to go elsewhere.
"Ames School is filled with great teachers, janitors, and lunch ladies. If Ames School shuts down, people will lose their jobs and students will lost their mentors. When CPS and politicians think about changing our schools, they should think again," ended Jaro.
According to CPS, nearly 140 schools are more than half-empty and about 50 percent of all schools are underutilized. CPS is facing a $1 billion deficit and stated the utilization crisis is 'stretching the District's limited resources.' This past November, CPS CEO Barbara Byrd-Bennett created the independent Commission on School Utilization to gather data and community feedback about the District's utilization challenges. Once input is collected, the Commission will evaluate which schools will remain open and which schools will close its doors.
"As a member of the Commission on School Utilization, I am here to observe and listen to what my community needs and wants," said State Senator Iris Martinez, who attended Monday's CPS hearing. "This is a community that is very vibrant and I am happy to be here watching my community come together and I want them to know I am here for them."
The next round of CPS hearings will take place:
2/21/13 Pershing 7pm at Fuller Park Field House, 331 W. 45th St.
2/23/13 O'Hare 11am at Wright College, 4300 N. Narragansett.
2/27/13 Garfield-Humboldt 7pm at Mt. Vernon MB Church, 2622 W. Jackson.
2/28/13 Fullerton 7pm at Armitage Baptist Church, 2451 N. Kedzie.
3/2/13 Midway 11am at Daley College, 7500 S. Pulaski.
3/4/13 Pilsen-Little Village 7pm at Arturo Velasquez Institute, 2800 S. Western.