By: Ashmar Mandou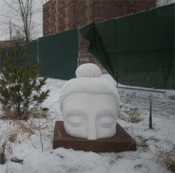 Enlightenment. Reflection. Serenity. Those are a few words to best describe what is happening across Chicago neighborhoods and you have community organizations Changing Worlds and ElevArte Community Studio to thank for that.
"It's time we start to think about peace," said ElevArte's Executive Director Giselle Mercier. "We know parts of the city are engulfed by violence, that's all you hear about. We hear about the rise of homicides in our city. So we hope to bring a different mindset to residents, one that will, hopefully, promote and spark conversation about peace." And who better to evoke peace, than peace personified, Buddha.
Beginning this month, residents will find ten Buddha sculptures "emerging" in ten Chicago neighborhoods as far north as Evanston to as far south as Back of the Yards, and the purpose of this, said Mercier, is to inspire residents to begin the dialogue of implementing more peaceful tactics into their daily lives.
The Buddha sculptures are part of Ten Thousand Ripples (TTR), a public art exhibit, promoting peace designed by Mercier's longtime friend, Indira Freitas Johnson, an award-winning artist and nonviolence peace educator. Through TTR, Johnson's vision for her outdoor exhibit of Buddha sculptures is to give the illusion these sculptures are "emerging" out of the ground in urban, public spaces. "A powerful and profound need exists within each of us to know that peace is possible in spite of the violence that surrounds us. Ten Thousand Ripples is a reminder of that need," said Johnson, in a statement. "It invokes the image of an emerging Buddha as a widely held symbol of peace, inviting people to think about how they can find peace in their own lives and in their own communities."
"This cross-city, interfaith initiative by Ten Thousand Ripples Project and Changing Worlds is a way to incite curiosity and conversation on the subject of introspection and calmness," added Mercier. "We want this exhibit to compel residents to put into practice some of the Buddhist teachings that circle around peace, and self-awareness, and understanding."
Throughout this year, ElevArte Community Studio will be providing free arts programming, led by Mexican Artist Alfonzo Piloto Nieves, circled around the theme of Ten Thousand Ripples, culminating with a July 2013 exhibit at the Loyola University Museum of Art. "Alfonzo will lead numerous workshops for our Pilsen community as a way to respond to the gun violence through the arts," said Mercier. ElevArte Community Studio is the host organization for the TTR art initiative in Pilsen, Little Village, and Back of the Yards neighborhoods. The ten Chicago neighborhoods part of the TTR art initiative will be able to keep five Buddha sculptures permanently. For more information and exact locations of the Buddha sculptures, visit www.elevartestudio.org.