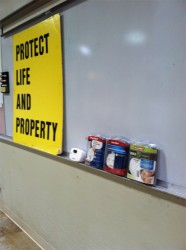 It's a proven fact that Carbon Monoxide (CO) Poisoning Calls and Concerns Rise During the Winter Months. Winter is the season when Peoples Gas receives the highest number of carbon monoxide-related calls. In 2012 alone, Peoples Gas working with the Chicago Fire Department responded to more than 1,000 CO related calls. The effects of breathing in CO fumes can cause illness or even death.
Peoples Gas recently partnered with the Chicago Fire Department and First Alert in hosting a "Home Safety Event" at the Peoples Gas Technical Training Center to help increase awareness and educate the public about the dangers of Carbon Monoxide poisoning. A Peoples Gas senior instructor demonstrated how CO can affect home heating appliances that are not functioning properly and the preventive steps residents can take to keep their families safe. Peoples Gas offers the following information to help keep residents safe:
Carbon monoxide is an odorless, colorless and tasteless gas and that can cause sickness and in some cases, death.
Carbon monoxide can come from inadequately burned fuel and improperly vented appliances, such as water heaters, furnaces, space heaters, boilers, ranges/stoves, clothes dryers, grills, fireplaces and portable generators.
It's extremely important that residents have a working carbon monoxide (CO) detector as required by Illinois law in their homes and apartments. The presence of carbon monoxide detectors can save lives. Carbon monoxide detectors should be installed within 15 feet of sleeping areas. Batteries should be changed every six months to ensure they are working.
If you suspect carbon monoxide poisoning, you should leave the premises immediately, get to a safe location and call 911 first, then the Peoples Gas emergency number at 1-866-556-6002. For more information on CO safety, please visit www.peoplesgasdelivery.com.