Courtesy of Raise Illinois Coalition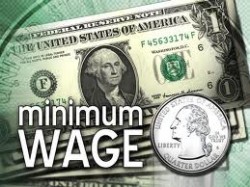 Raise Illinois is pleased that President Obama returned to his hometown last Friday to discuss the violence epidemic that has left the city scared and searching for answers on how to curb the violence that has overtaken the city's poorest communities. The coalition comprised of labor, community, faith and business organizations believes that a key component in reducing violence is the creation of good paying jobs that will come from an increase in Illinois' minimum wage.
President Obama expressed support for raising the federal minimum wage to $9.00 per hour, with a cost of living increase, during his State of the Union speech this week. The Economic Policy Institute (EPI) estimates that raising the federal minimum wage from its current $7.25 per hour to $9.00 per hour would give 21 million working families a much needed raise, and inject billions of dollars in new consumer spending into the nation's economy, speeding economic recovery.
As Chicago's poorest streets continue to be filled with nightly murders and gun violence, Raise Illinois points to decades of research showing a strong correlation between low wages and violence. The National Bureau of Economic Research reports that a wage drop of twenty percent leads to a twelve to eighteen point increase in youth crime. Chicago's violent crime wave has primarily been concentrated on the city's south and west sides where poverty and unemployment are apparent.
As wages for low wage workers in Illinois continue to be decimated by inflation, Senate Bill 68 sponsored by State Senator Kimberly Lightford (D-Maywood) would raise Illinois' minimum wage to $10.65 an hour over the next three years. The current minimum wage in Illinois of $8.25 means that an individual working full time earns only about $16,500 per year, which falls below the federal poverty guidelines for most families.
The Economic Policy Institute estimates that raising the Illinois minimum wage to $10.60 would provide more than $3.8 billion in increased wages for directly affected workers and generate about 20,000 new jobs in the state. Additionally, restoring the minimum wage to its historic value in our state would result in $2.5 billion in additional economic activity, creating a healthy and sustained climate of growth for Illinois businesses. For more information, please visit RaiseIllinois.com.