By: Ashmar Mandou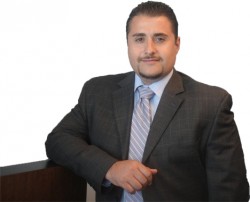 Entrepreneur Julio C. Rodriguez knows a thing or two about being successful. In 1995, Rodriguez opened the doors to Dulcelandia, a candy store that specializes in imported sweets from Mexico, in the Little Village, Brighton Park, Logan Square neighborhoods as well as Aurora, Melrose Park, and Cicero. "We are very fortunate to have a business that continues to grow and a business that brings a bit of nostalgia to our customers," said Rodriguez. "We are actually in the process of acquiring another building in Little Village for Dulcelandia to grow and to continue to bring that entrepreneurial spirit to the neighborhood."
Rodriguez's vigor for business and community is what earned him a seat on the Little Village Chamber of Commerce as Board President as of January 2013. "I'm really excited about my new role," said Rodriguez. "We have a new revitalized board, an engaged board, an invigorated board, and everybody is looking forward to working with each other." Dubbed the '2nd magnificent mile,' Little Village was once a driving force in Chicago's economy generating nearly $900 million in commercial sales in 2001. And although small business owners have been hit by hard times and left Little Village, Rodriguez, with the help of the Little Village Chamber of Commerce, is in the process of brainstorming ideas on how to revitalize the Little Village corridor and spur entrepreneurial growth. As Board President, Rodriguez gave Lawndale Bilingual Newspaper a glimpse into what he has planned for this year.
Revitalization
One of the important factors is to bring business to our corridor and I think one of the ways we can do that is by working with the Special Service Area #25 and try to enhance the shopping experience for our customers. We want to inform our customers on the type of businesses we have here in Little Village. We want them to know what we have to offer and what Little Village is all about. One of the ideas that we are throwing around is that we want to have Kiosks situated along the corridor that will be sponsored by local businesses, which will give information about other businesses on the strip. Another major goal we have is to fill the vacancies. We conducted an economic study a little while ago and Little Village, compared to other areas of Chicago, probably has one of the lowest vacancy rates in Chicago, which is something that is very positive for our community. However, we want to fill the ones that our currently vacant and regain that sense of business vitality. I remember a time when you couldn't even find a building to lease for your business…those days are long gone. So we need to find a way to bring that back to some degree where people can see that Little Village's local economy has been revitalized.
Board's Role
As a chamber, our first priority is to make sure we have new businesses opening. We want to make sure local entrepreneurs are working with local banks and SBA lenders and that they are set up with the right people who will guide them on the right path. There are a lot of loans out there for entrepreneurs to receive to open up a business and I know many entrepreneurs are hesitant to do so. They wonder how will they ever get the capital and we are here as their resource. We are here to help and aid them in any way issue or problem that may encounter. We will introduce them to the right people; we will guide them on a step-by-step basis. We will do all we can so that they have capital on their side to feel ready to establish their business.
Little Village
Three words come to mind when I think of Little Village, community, culture, and commerce. There are a lot of opportunities here in this community. We have a strong culture and it is exciting to see where we can take Little Village in the next year. I urge everyone to come to Little Village and see, firsthand, the vibrancy we have in our neighborhood.