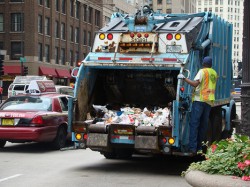 El lunes, las cuadrillas del Departamento de Calles y Sanidad de Chicago comenzaron la preparación final para el sistema de recolección de basura roll out of the grid a 57,000 familias en los distritos 3, 4, 5, 6, 11, 12, 20 y 25.
Durante esta semana,las cuadrillas pondrán notificaciones con códigos a color "Cambio en el Día de Servicio de Basura" en las casas que sirve la ciudad y que rechazan los carros dentros de los límites del roll out, para informar a los residentes su nuevo día de recolección de basura, efectivo la semana del 25 de febrero del 2013.
Adicionalmente, las notas informarán a los residentes que reciben servicios de carros azules de reciclaje, que su día de servicio de reciclaje también será cambiado al mismo día de su recolección de basura. Los residentes que reciben los servicios de reciclaje de carro azul mantendrán la misma semana de servicio, aunque su día de recolección de basura cambie. Puede encontrar un mapa delineando los días de servicio en www.cityofchicago.org/dss.